PGRpdiBjbGFzcz0iYXJ2ZSIgZGF0YS1tb2RlPSJub3JtYWwiIGRhdGEtb2VtYmVkPSIxIiBkYXRhLXByb3ZpZGVyPSJ5b3V0dWJlIiBpZD0iYXJ2ZS15b3V0dWJlLW5seHh4eC1qZGR1NjU3Mzk3OTg5Njc3NTA3NTU2NjIyNCI+CjxzcGFuIGNsYXNzPSJhcnZlLWlubmVyIj4KPHNwYW4gY2xhc3M9ImFydmUtZW1iZWQgYXJ2ZS1lbWJlZC0taGFzLWFzcGVjdC1yYXRpbyIgc3R5bGU9ImFzcGVjdC1yYXRpbzogNTAwIC8gMjgxIj4KPHNwYW4gY2xhc3M9ImFydmUtYXIiIHN0eWxlPSJwYWRkaW5nLXRvcDo1Ni4yMDAwMDAlIj48L3NwYW4+PGlmcmFtZSBhbGxvdz0iYWNjZWxlcm9tZXRlcjsgYXV0b3BsYXk7IGNsaXBib2FyZC13cml0ZTsgZW5jcnlwdGVkLW1lZGlhOyBneXJvc2NvcGU7IHBpY3R1cmUtaW4tcGljdHVyZSIgYWxsb3dmdWxsc2NyZWVuIGNsYXNzPSJhcnZlLWlmcmFtZSBmaXR2aWRzaWdub3JlIiBkYXRhLWFydmU9ImFydmUteW91dHViZS1ubHh4eHgtamRkdTY1NzM5Nzk4OTY3NzUwNzU1NjYyMjQiIGRhdGEtc3JjLW5vLWFwPSJodHRwczovL3d3dy55b3V0dWJlLW5vY29va2llLmNvbS9lbWJlZC9uTFh4eFgtSkRkVT9mZWF0dXJlPW9lbWJlZCZhbXA7aXZfbG9hZF9wb2xpY3k9MyZhbXA7bW9kZXN0YnJhbmRpbmc9MSZhbXA7cmVsPTAmYW1wO2F1dG9oaWRlPTEmYW1wO3BsYXlzaW5saW5lPTAmYW1wO2F1dG9wbGF5PTAiIGZyYW1lYm9yZGVyPSIwIiBoZWlnaHQ9IjAiIHNhbmRib3g9ImFsbG93LXNjcmlwdHMgYWxsb3ctc2FtZS1vcmlnaW4gYWxsb3ctcHJlc2VudGF0aW9uIGFsbG93LXBvcHVwcyBhbGxvdy1wb3B1cHMtdG8tZXNjYXBlLXNhbmRib3giIHNjcm9sbGluZz0ibm8iIHNyYz0iaHR0cHM6Ly93d3cueW91dHViZS1ub2Nvb2tpZS5jb20vZW1iZWQvbkxYeHhYLUpEZFU/ZmVhdHVyZT1vZW1iZWQmIzAzODtpdl9sb2FkX3BvbGljeT0zJiMwMzg7bW9kZXN0YnJhbmRpbmc9MSYjMDM4O3JlbD0wJiMwMzg7YXV0b2hpZGU9MSYjMDM4O3BsYXlzaW5saW5lPTAmIzAzODthdXRvcGxheT0wIj48L2lmcmFtZT4KCjwvc3Bhbj4KCjwvc3Bhbj4KPHNjcmlwdCB0eXBlPSJhcHBsaWNhdGlvbi9sZCtqc29uIj57IkBjb250ZXh0IjoiaHR0cDpcL1wvc2NoZW1hLm9yZ1wvIiwiQGlkIjoiaHR0cHM6XC9cL3NrYWkuaW9cL2Jsb2dcL3dhdGNoLWtleS10YWtlYXdheXMtZnJvbS1yZXRhaWwtbWVkaWEtZXVyb3BlYW4tdHJlbmRzLWFuZC0yMDIzLW91dGxvb2std2ViaW5hclwvI2FydmUteW91dHViZS1ubHh4eHgtamRkdTY1NzM5Nzk4OTY3NzUwNzU1NjYyMjQiLCJ0eXBlIjoiVmlkZW9PYmplY3QiLCJlbWJlZFVSTCI6Imh0dHBzOlwvXC93d3cueW91dHViZS1ub2Nvb2tpZS5jb21cL2VtYmVkXC9uTFh4eFgtSkRkVT9mZWF0dXJlPW9lbWJlZCZpdl9sb2FkX3BvbGljeT0zJm1vZGVzdGJyYW5kaW5nPTEmcmVsPTAmYXV0b2hpZGU9MSZwbGF5c2lubGluZT0wJmF1dG9wbGF5PTAifTwvc2NyaXB0Pgo8L2Rpdj4K
Professionals in every industry are looking ahead to 2023 and trying to read the tea leaves on what will happen next year. This is especially true for retail brands, which are deeply connected to consumer confidence and how that impacts buying behavior. 
Will economic conditions be more favorable in the new year or continue to decline?
How will this affect retail media?
Should advertisers start changing plans?
To help European marketers better understand the current economic climate, Skai recently hosted a webinar to examine recent trends impacting the market, ecommerce, and the retail media advertising channel.
---
[WEBINAR]
:
Retail Media: European Trends and 2023 Outlook
Skai's Sr. Director of Marketing, Michelle Urwin, hosted the webinar which included:
Dr. Daniel Knapp, Chief Economist @

IAB Europe

Sebastian Bourne, Director EMEA In-House Search & Ecommerce Marketing @

HP

Mudit Jaju, Global Head, Ecommerce @

Wavemaker
Daniel Knapp began the webinar by presenting recent macroeconomic trends which included this somewhat topsy-turvy map of noteworthy current events and occurrences impacting EMEA.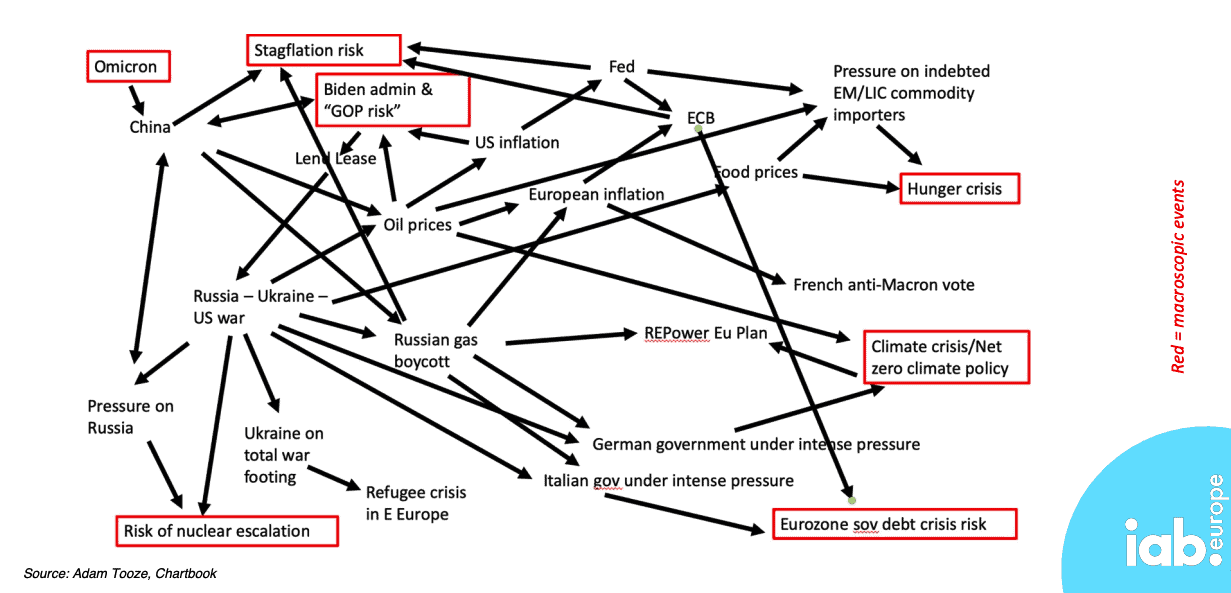 The following are the key takeaways from Daniel's opening presentation analysis. 
Key takeaway #1 – The pandemic disruption has created an economic downturn, while other areas have seen unprecedented growth
It goes without saying that COVID-19 was significantly disruptive to many industries including travel, healthcare, and food and beverage. But during that same time, some industries saw tremendous growth. The first three months of the pandemic pushed ecommerce sales ahead of growth projections by four years. 
"The pandemic has actually changed people's perception of where and how they can buy stuff," explained Knapp. "The base readiness to use ecommerce versus 2019 has gone up 6% points." 
Impact on retail media: Brands have adapted to the growth of ecommerce by investing heavily in retail media advertising to take advantage of more online shopping. 
Key takeaway #2 – Market fragmentation, aka "The Splinternet"
Just as COVID-19 was disrupting global markets, the tech giants that drive internet activity have been instituting fundamental changes to how brands can track online consumers. These changes have had the downstream effect of fragmenting these players even deeper, collectively called by some pundits "The Splinternet." 
"We can see now those platforms thriving where ad exposure, conversion/sales, and conflated into one single platform without having to go to any third party environments," explained Knapp. "This splinternet is helping retail media drive forward."
The next step is for retailers to truly participate in getting retail media measurement figured out. "My challenge to the retailers is to help us establish incrementally and help us establish bottom line growth," said Jaju. "CEOs don't care about ROAS or CPC; they care about growth."
Impact on retail media: As the internet giants retreat behind their ever-growing walls, these "closed ecosystems" can offer advertisers unparalleled access to massive, logged-in users. This has opened up more opportunities for retailers to garner retail media budgets.   
Key takeaway #3 – An economic downturn will dominate 2023, but all signs point to a rebound in 2024
Across the board, ad forecasts have been revised for 2022 and 2023 but are set to rebound in 2024. This generally holds historically true for economic downturns, like the one we saw in 2007. Eventually, things don't just come back to normal, but with an intense period of short-term growth. 
Impact on retail media: Performance-based ad channels—such as retail media—tend to keep their budgets in an economic downturn. Impression-based channels are usually the areas where brands cut at these times. 
Key takeaway #4 – Retail media is growing despite market headwinds
Regardless of the EMEA economic conditions—and even though digital growth is expected to be flat—most experts are forecasting retail media will continue to grow. 
One key reason for this growth, cited by Knapp, was the rapid innovation of the channel and how retail media is evolving to include on-site, off-site, endemic, and non-endemic inventory. 
And one of the keys to garnering more investment is how much data a retailer is willing to share with its advertisers. "Brands are prioritizing retailers more open to sharing data and more scalable solutions," explained Jaju. "This essentially means there is a more sustainable presence for the brand to build on that retailer."

Impact on retail media: "Retail media is predestined to grow despite the headwinds we're seeing," said Knapp. "[Next year], I think we're going to see further fragmentation with more launches."
Key takeaway #5 – Retail media is no longer an emerging channel
In Europe, retail media is already bigger than newspaper advertising. It will grow to €25 billion by 2026, eclipsing television advertising spending. 
"We must take it seriously," Knapp urged the webinar panelists. "It's no longer a 'nice to have anymore' for brands, but requires serious strategic engagement at the C-level to really seize this opportunity."
Impact on retail media: As industry perception changes among late adopters that retail media is a fantastic opportunity to stay, more investments will open up to fuel the channel's growth. 
Key takeaway #6 – An economic analysis shows retail media growing faster than paid search in its early years
To help webinar attendees understand just how big the channel is right now, Knapp showed an analysis of paid search, which has many parallels to retail media. He called one of these two channels "crisis kids" because they "really show their value in high dynamic and uncertain times." By comparing paid search's trajectory, we can learn more about what will likely happen with retail media. 
For this analysis, he mapped the growth in total Euro spending from the critical inflection point of when the channels began to take off, called "year zero." For paid search, year zero was 2008. For retail media, it was 2020. Both channels experienced extremely high growth on the heels of a global economic downturn. 
"The trajectory is very similar," said Knapp. "But retail media will take off further, not only because we're now in a much more mature digital ad market, but also because of the structural advantages I spoke about earlier." [referring to The Splinternet]
Impact on retail media: Conditions are lining up in a very favorable way for retail media. As marketers look to cut spending, performance channels like retail media will likely be the last to be cut. Likely, budget will be removed from non-performance channels and reallocated back into performance channels.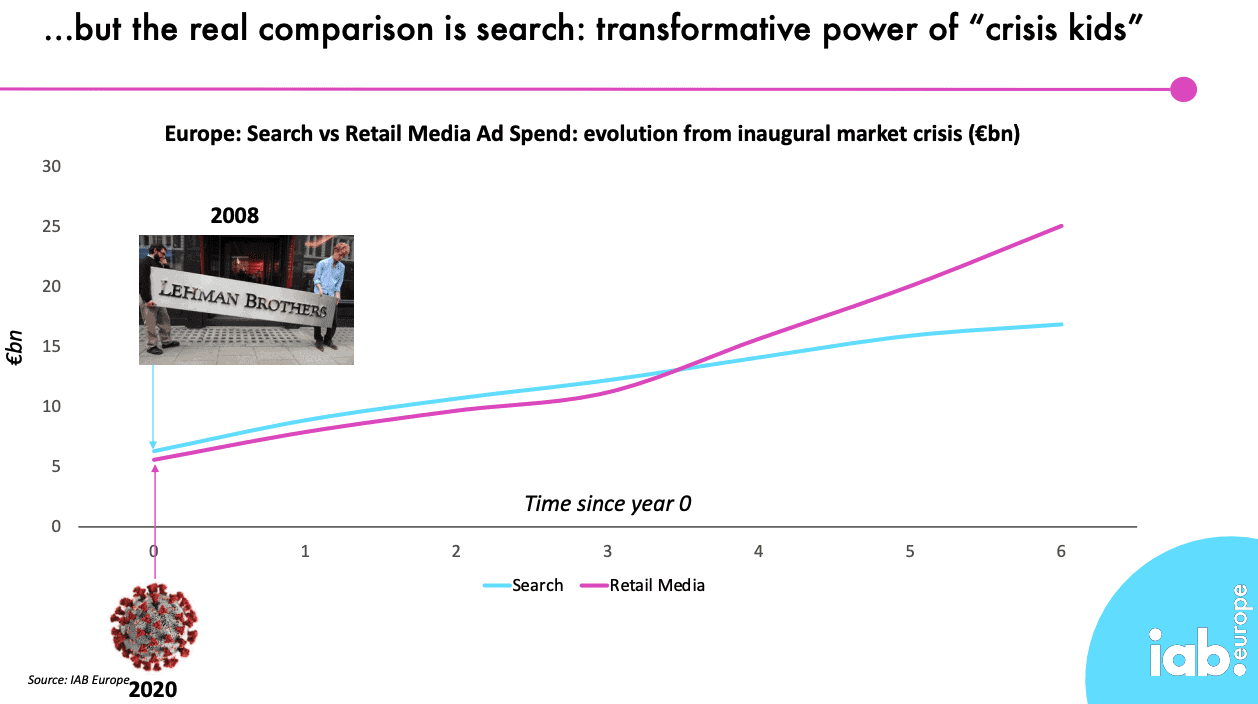 Key takeaway #7 – Brands can find value in retail media beyond ad-driven sales
Knapp took a moment to talk about some of the other advantages beyond sales that retail media advertising can offer. 
One of those areas is to use retail media as a feedback loop for product development. For example, a product company could promote a limited run of new flavors or color options and use retail media to drive traffic to those product detail pages in online stores. Based on advertising response rates and sales, they'll know quickly if the public is interested in these variations. This way, they can "test and learn" before investing in large inventory volumes. 
Retailers may not truly understand these implications yet, explained Knapp. "We need to understand that the retailers are not media or advertising businesses historically." But they're catching on quickly.
"We've moved over to Skai to help us manage this chaos," said Sebastian Bourne at HP. "Most of these platforms aren't as advanced as Amazon or Google. You need a tool to help you coordinate all of this."
Impact on retail media: The more ways brands can extract value from retail media, the more investments the channel will likely garner. 
Key takeaway #8 – Retail media can impact real business metrics, not just advertising metrics
In his final point, Knapp explained that, if used correctly, retail media can drive true business outcomes. It can play a crucial role when a company has higher data granularity and can measure ad exposure and conversion on a single platform without any signal loss.
"One of the most exciting things to me is that retail media provides this glue to real outcome-based marketing, not just advertising metrics but business metrics," he clarified. 
An example he shared was that retail media could be used to drive advertising to inventory which a brand may have readily in stock at many different fulfillment warehouses. Being able to ship locally keeps delivery costs low and margins high. Even if other items could be more "profitable" from an ads-cost perspective, real-world business metrics like delivery costs can be ingested into retail media performance models so companies can optimize their advertising investments towards true profitability. 
Getting to this evolved state will take some time. "These retailers don't realize how hard it is for marketers to buy media from them," said Jaju. 
Standardization is key to accelerated evolution, but that's easier said than done. "Retailers need to collaborate," said Knapp. "They need to stop seeing themselves as competitors"
Impact on retail media: As the channel matures, companies will get more and more efficient with their retail media business strategies in ways other channels cannot.