Retail media advertising has been a major topic of conversation in the digital marketing world. And for good reason. The pandemic pushed shoppers who had never so much as ordered from Amazon were reaching for their phones to order groceries amid safety concerns, At this time, retail media advertising became one of the best means of reaching new CPG customers and staying in touch with brand loyalists who might not be able to make it to the store.
But now that many shoppers are venturing back to brick and mortars again, where does that leave retail media advertising in the CPG media plan?
Remember, even if the majority of your sales are transacted, just about every purchase these days is researched online—especially the more expensive ones. CPG marketers are also finding that online retailers are fantastic conversion destinations for their paid search and paid traffic.
Why bring them to your website only to redirect them to an online retail partner a few clicks later?
Today, we answer retail media advertising's frequently asked questions:
What is retail media advertising?
Retail media's offline predecessor, shopper marketing, offers the closest analogy: reach shoppers as they shop in stores. But, instead of brick & mortar retailers, retail media ads appear within the shopping experience of online retailers such as Amazon, Walmart.com, Target.com, etc. 
Although certainly an individual ad channel, retail media advertising should be approached as more of a full-funnel advertising program for online stores. In this regard, it is more like paid social offering a mix of ad formats across the funnel within the walls of a closed ecosystem—i.e. Facebook, Instagram, Snap, Pinterest, etc.
Ads generally come in 2 varieties:
Sponsored listings within retailer search results

Display ads (banners, videos) throughout the site
Each retailer offers its own flavor of retail media, some include email sponsorships, social media co-op buys, etc.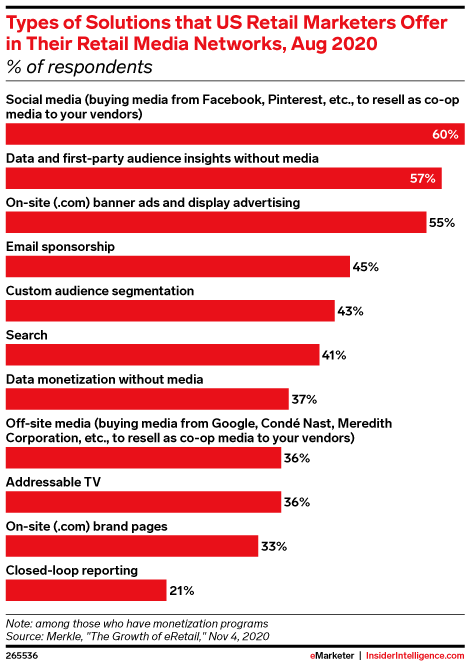 Which retailers are most important for retail media advertising?
When it comes to retail media advertising, there's no question that Amazon rules the roost. In fact, according to eMarketer's "Retail Media Advertising 2021" report, Amazon accounted for around 76.2 percent of all US ecommerce channel ad spend that year. However, Amazon definitely isn't the only player in the game.
As eMarketer notes, retailers like Walmart, Target, The Home Depot, Best Buy, Walgreens, and CVS have all invested heavily in the retail media advertising space. 
Beyond Amazon, where should retailers be looking to invest?
While most third-party sellers on Amazon understand the importance of retail media advertising, other traditionally brick-and-mortar brands may not necessarily understand how crucial retail media advertising has become to markets that traditionally relied on print, social, and other forms of digital advertising. 
Online grocery shopping, for example, boomed during the pandemic–a boom that shows no sign of ending. eMarketer reports that 2021 was the first year that the majority of consumers purchased groceries via ecommerce, forecasting that 142.9 million people ages 14 and older would make at least one digital grocery order or 51.5 percent of the population in the age range.
So for brands that traditionally sell items in grocery or convenience stores, the recent retail media advertising space on popular apps like GoPuff or Instacart are critical spaces for connecting with local audiences. 
Does retail media advertising actually work?
Absolutely. With so many shoppers relying on digital channels for everyday purchases, from groceries to home goods, the way that consumers browse has changed forever. eMarketer reports that "92.6% of US internet users  ages 14 and older, or 84.0% of the US population in that  age range, will browse, research or compare products  digitally via any device at least once this year, making  them digital shoppers." 
However, with so many shoppers changing the ways they browse, the sheer volume of products they may encounter often becomes overwhelming. Traditionally, consumers' options have been limited to what a brick and mortar store had in stock on the shelves, but the "digital shelf" is literally endless. This is where those sponsored products, often at the top of searches, come into play. Imagine having a sales representative right in the aisle of Target, offering 5-star reviews as evidence that people love your product.
That's the power of retail media advertising.  
How crowded is the retail media advertising market?
Crowded. And getting more so all the time. eMarketer reports that one in eight advertising dollars was spent on retail media in 2021. As we move into an increasingly cookie-less world, the first-party data in the possession of huge retailers like Amazon and Walmart, is some of the best around for brands to segment, target, and even re-target their ideal audiences. 
But just because everyone is doing does not mean there's no way to stand out in the retail media advertising space. Looking for smaller retail spaces with room for growth, like GoPuff, InstaCart, and DoorDash, is one way to get ahead of the retail media advertising game. And even if you're already advertising with Amazon or Walmart, it never hurts to step up your retail media advertising strategy. 
Master retail media advertising with Skai
As part of Skai's intelligent marketing platform, our Retail Media solution empowers brands to plan, execute, and measure digital campaigns that meet consumers when and where they shop. Built with best-in-class automation and optimization capabilities, our unified platform allows you to manage campaigns on 30+ retailers including Amazon, Walmart, Target, and Instacart all in one place. Client results include:
For more information, schedule a brief demo to see all of our cutting-edge functionality for yourself.