Shed Simove is one of the speakers at our upcoming K In The Park. Ahead of the event (btw you should definitely check it out if you are around London on 27th June), we decided to sit down with some of the speakers to chat about what they are up to, their thoughts on the industry, and some inspirational ideas.
First up is a man who will definitely give you some ideas…after all, he is The Ideas Man.
The Idea Man, Shed Simove, is a performer, entrepreneur, author, and motivational speaker. He is an expert in IDEAS and can help you make your ideas happen. Shed believes that "when an idea pops into your head, it can send you on amazing adventures – if you follow the idea through."
He is also a Guinness World Record holder and has been called a 'Marketing God' in the media.
Hi! Shed! Let's start with something easy. Could you tell us something about yourself?
Hi, I'm Shed Simove, lovely to be with you.
The very fact that you're attending Skai's unique and unconventional event in the Park means that you're an impressive marketing professional who appreciates the need to always grow in knowledge and be energised. That's both hugely exciting for me – and daunting too!
So, my aim is to use some of the knowledge that I've built up from studying the areas of creativity, success and how to differentiate yourself to inspire you with my presentation – and to leave you with a technique or two that you can implement on Monday morning (after your hangover from the event has subsided!) that will enhance your success and bottom line…
Looking forward to meeting you.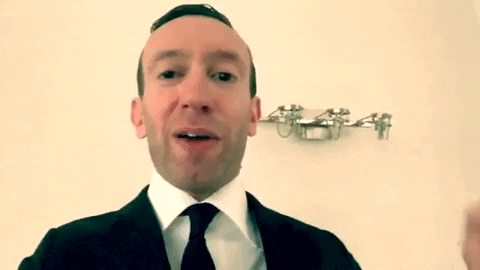 Shed Simove, creativity is a rare and sought-for commodity. What would you recommend marketers do to make their work more creative?
Shed Simove: Poppycock! I refute the assumption in your question!! (I'm being naughty already…). I utterly, firmly, wholeheartedly believe that creativity is an innate function of every single one of our human brains. We as humans evolved over millions of years to be uniquely able to solve challenges, mainly those associated with finding shelter, food, and a mate.
Because many of us are now fortunate to have a roof over our heads, an Ocado account (middle classes of the UK unite!) and Tinder on our phones, these three challenges are less pressing these days, which means our creativity can be freed up to drive our success, fulfillment, and happiness.
Creativity is not some amazing superpower, it's something we all naturally have and that can be both stifled (school does this, sometimes family and colleagues also do this) and stimulated too (my job is to do this). One simple technique to make your work more creative is to realise that ideas sometimes work in cycles.
First off, if you immerse yourself in a particular topic area, you can find out what is commonly being done in that area at the moment, then do something different so you stand out. Second, you should look back maybe ten, twenty or thirty years, see what was successful in the area you're working in then, then adapt those ideas to fit today's market. Sometimes, a new idea can simply be an old idea tweaked slightly for a different generation.
Shed Simove, where do you get your inspiration?
Shed Simove: You and I should be – and can be – inspired by everything that enters our five senses. So, everything that you see, touch, taste, hear and smell can be turned into a great idea. It just needs your little sprinkle of magic to differentiate it and make it yours.
Of course, I get directly moved by the beauty all around me, in nature, design and by elegant tech solutions that make our lives even better / more exciting. And sometimes just seeing another human achieve something extraordinary reminds us that pretty much everything is possible if you put your mind to it.
Have you ever had an idea which you didn't pursue and if so, why?
Shed Simove: Oh yes! I have over six hundred ideas in my portfolio, ranging from novelty gifts to businesses, to website to apps. Some of them are STINKERS! I'm not sure anyone would have bought the 'Osama Bin Ladle', but then again…
There are two important things about your ideas. First, you MUST write them down, and ideally, bring them to life visually in some way, and create a portfolio of your ideas. This allows you to look back at them to see which ones still excite you (and you should then bring these to life) and allows you to pitch to people easily.
Secondly, an idea is never really 'good' or 'bad', it's how the people who deal with it bring it to life and nurture it. I'm often surprised how, when I'm pitching ideas, one certain idea in my profile will be called 'genius' by someone one day and the next day, it'll be called 'appalling'. The success of an idea is not just about the core concept, it's how you uniquely make it happen.
Shed Simove, do you have a favorite social media platform and if so why?
Shed Simove: I'm embarrassed that I'm pretty lacking on the social platforms. If any of your genius marketing attendees want to help a high maintenance creative who's stuck in his ways, get in touch, ha ha! I'm actually finding that LinkedIn is giving me great engagement at the mo. Who would have thought it?
We are sure we will find someone who will help you out. Now, the last question: What is the best piece of advice you have ever received?
Shed Simove: It's possible to 'fail upwards'. If you continue working hard at something (or even a career) and do your best, tweaking all the time, as long as you're reliable and get the job done, even if you make many, many mistakes, you'll gradually improve over time and possibly conquer your field too.
I wish you huge success!
And that's a wrap! Thanks for your time Shed!
If you want to come by KITP, definitely register here
If you are eager to learn about Shed, definitely check out his web or Twitter
Until next time!