Inclusive audience marketing. Learn more about K8 West's upcoming session to on why and how to market with consumer values at the center of your advertising strategy.
At Skai's upcoming digital marketing summit, K8 West, Microsoft's Market Research Manager, Kelli Kemery, will host a session on inclusive audience marketing.
Inclusive marketing looks to advertise products, services, or experiences that reach people in ways that deeply resonate and afterward remains an indelible experience that fuels long term loyalty and growth.
Consumers have always expressed interest in spending money with companies that represent and align with their beliefs. With the rise of social media over the last decade and how fast both positive and negative buzz can spread, the importance of marketing with a purpose is growing. In fact, 91% of millennials say that they'd switch to a brand that is associated with a good cause.
Brands are beginning to see the value of inclusive marketing as a growth engine strategy to:
Tap into new audiences

Spur market growth and be a competitive advantage

Increase and deepen audience engagement

Develop a better customer experience
Microsoft has a long history with inclusive marketing spanning various key issues around multi-culturalism, ethnic diversity, gender equality, and other social causes.
This includes addressing inclusive issues around accessibility Including last year's release of an adaptive controller for its popular gaming system, Xbox.
Prior to K8, we asked Kelli a few questions about inclusive audience marketing
What does this year's K8 theme, "Knowledge is Power" mean to you?
As a mother of 4 kids, this is a mantra in our house. I believe that knowledge and education are critical to success from a human to a business perspective. Without knowledge, we stall. With knowledge, we grow.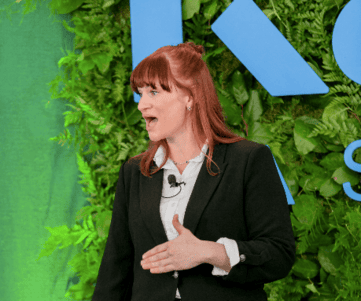 What are you most excited to share with the audience?
That we all have the power to inclusively market. We are all creative people and sometimes all it takes is a little creative thinking. I hope that my passion is apparent and contagious; and that our journey helps guide others.
If the audience remembers one thing from your session, what would you like that be?
That inclusive audience marketing or design all starts with thinking inclusively. It is critical for us to get close and understand the people that we serve, in order to best meet their needs. Proximity builds empathy which leads to insights and innovation.
K8 West is right around the corner
We hope you are looking forward to Kelli's inclusive audience marketing session with Microsoft as our K8 West headline sponsor. Hers is just one of the thought-provoking sessions we have scheduled throughout the day. If you want a glimpse into other sessions, please review the agenda here.