With new limitations on consumer data privacy, advertisers are going to need to adapt. What is the role of attribution in a cookieless world? 
Well, my last post created a bit of a stir. The Post-Attribution Era Has Begun: How to Transition Your Org to Cookieless Marketing Measurement was meant to help marketers who see the writing on the wall about how upcoming data tracking changes—namely from Apple (iOS14) and Google (Chrome)—are signaling the end of for multi-touch attribution (MTA). 
I received some feedback about that post from marketers who are still hoping attribution in a cookieless world can still be viable. This is completely understandable—given the amount of time, effort, and investments in MTA, this transition isn't insignificant and will certainly be incredibly difficult to pull off for most orgs. 
But, even the most fervent MTA defenders know that when Apple and Google finally flip the data privacy switch there will be some serious issues with the approach. In another post, Marketing Measurement Cannot Be Reliant on Individual Customer Journeys: Incrementality is the Fix, I offer the same conversation points I've had with scores of marketers over the past year:
"What if I was to tell you less than 30% of the results you measure are correct? Are you still going to hold on to your customer journey-based measurement system? 
What about less than 20%?
Less than 10%?
Less than 5%? 
So, marketers. I ask you: How flawed are you willing to accept your measurement approach?"
It stands to reason that some marketers will simply ignore the issues and maintain the status quo, enabling MTA to continue within their organizations. I would offer that this is like navigating with a faulty compass—and that they almost certainly end up optimizing AWAY from campaign elements that are creating value and optimize TOWARD campaign elements that aren't working. 
But, for those of you who are going to take the hard road ahead away from MTA as your primary measurement methodology, you may still wonder:
Does multi-touch attribution in a cookieless world still hold value?
It does. 
Sort of. 
Let me explain.
Rewinding a decade to the end of Last Click and the beginning of the MTA Era
Around 2007, marketers began to realize that the standard way of measuring digital advertising was flawed. Most systems were attributing the entire value of a conversion to whatever the "last ad click" was determined to be, called Last Click. 
Take for example the following [fictitious] user purchase path: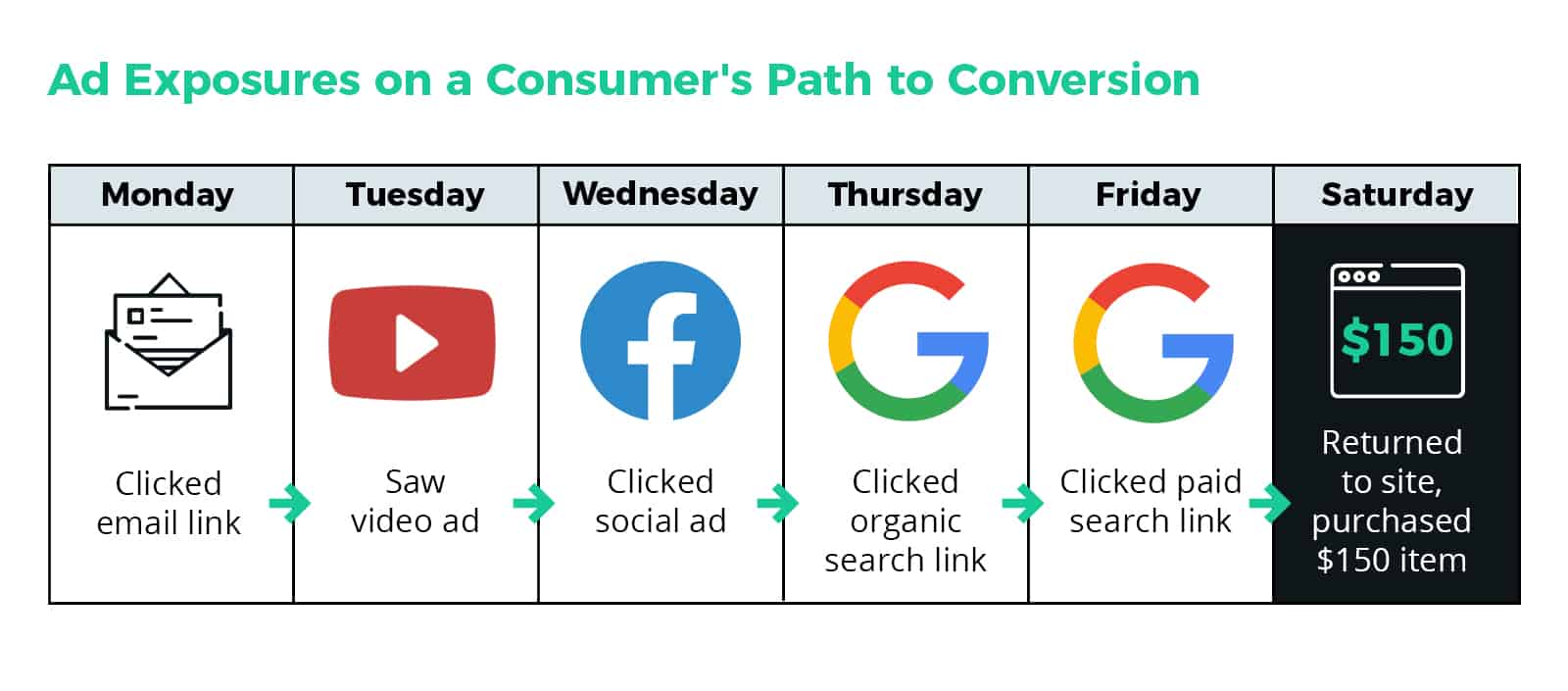 In the Last Click approach, that last Google Search Ad receives 100% of the $150 sale. Last Click wasn't really an agreed-upon way to measure digital advertising, it was just the default way that the various ad buying technology worked. 
Once the flaws of Last Click were pointed out, every marketer at the time instantly realized this was not very accurate. After all, the email, the YouTube ad, the Facebook ad, and even the organic search link (SEO programs cost money too) should receive some credit. It was like a light bulb went off around the industry. 
MTA was the solution.
Multi-touch attribution helped marketers spread the value of the tracked ad exposures to a converting user. Using algorithmic weighting, the $150 conversion value in our example was spread across the exposures to better reflect the combination of ad impressions and clicks that worked together to drive the sale. For example, the Facebook ad might be credited $10 of the sale. The YouTube video, $25. And so on. That may not sound like a big deal, but if you're a giant retailer and getting thousands of orders a day, those "fractional" attributed dollars add up, providing a more complete understanding of the contribution of every channel in the media mix. 
MTA was a major upgrade to the Last Click! That's undeniable. I was a huge fan of MTA at the time. It finally got us closer to truly understanding the efficacy of our campaigns. 
Remember, this was around the time when the vast majority of web browsing activity happened on a desktop. Tracking users was fairly easy and every marketing org jumped on the MTA bandwagon.
But then, around the same time that MTA was taking off…the world changed. In 2007, the iPhone launched. Since then, the proliferation of devices (smartphones, tablets, smart TVs, voice assistants, gaming consoles, etc.) has fragmented a user's browsing activity to the point where it's become almost impossible to track every ad exposure back to a single user.
Without being able to connect the dots of the consumer journey, the effectiveness of MTA has been degrading. "MTA is expensive and 'creates more questions than it answers,' said Alyssa Perry, senior director of marketing of FabFitFu", in the 2019 AdExchanger article, As Marketers Tire Of Last-Click And MTA, Incrementality Testing Finds Its Niche.
There have been attempts to create a "unified view of the customer" over the last decade to preserve MTA's status as the primary marketing measurement approach. While there have been many leaks in the system, MTA has been able to remain viable. 
However, with the upcoming limitations to consumer data—aka "the final nail in the coffin"—MTA is just not going to work as it did anymore.
Attribution in a cookieless world: MTA will still be valuable within closed ecosystems 
While MTA across channels will become ineffective, multi-touch attribution will still have value for day-to-day optimization within the closed ecosystems of the biggest publishers such as Google, Facebook, Amazon, and others. These players have logged-in users across their devices and can track multiple interactions between a brand and its customers. 
So, for example, Google advertising practitioners analyzing their media mix on Google can use Google attribution metrics to do so. Google Search attribution can help determine which combination of keywords are often used to drive users to convert. This can be helpful to optimize keywords, match types, ad copy, ad formats, etc. The same can happen on Facebook for Facebook marketers, on Amazon for Amazon marketers, and in any closed ecosystem that can maintain a unified view of each user.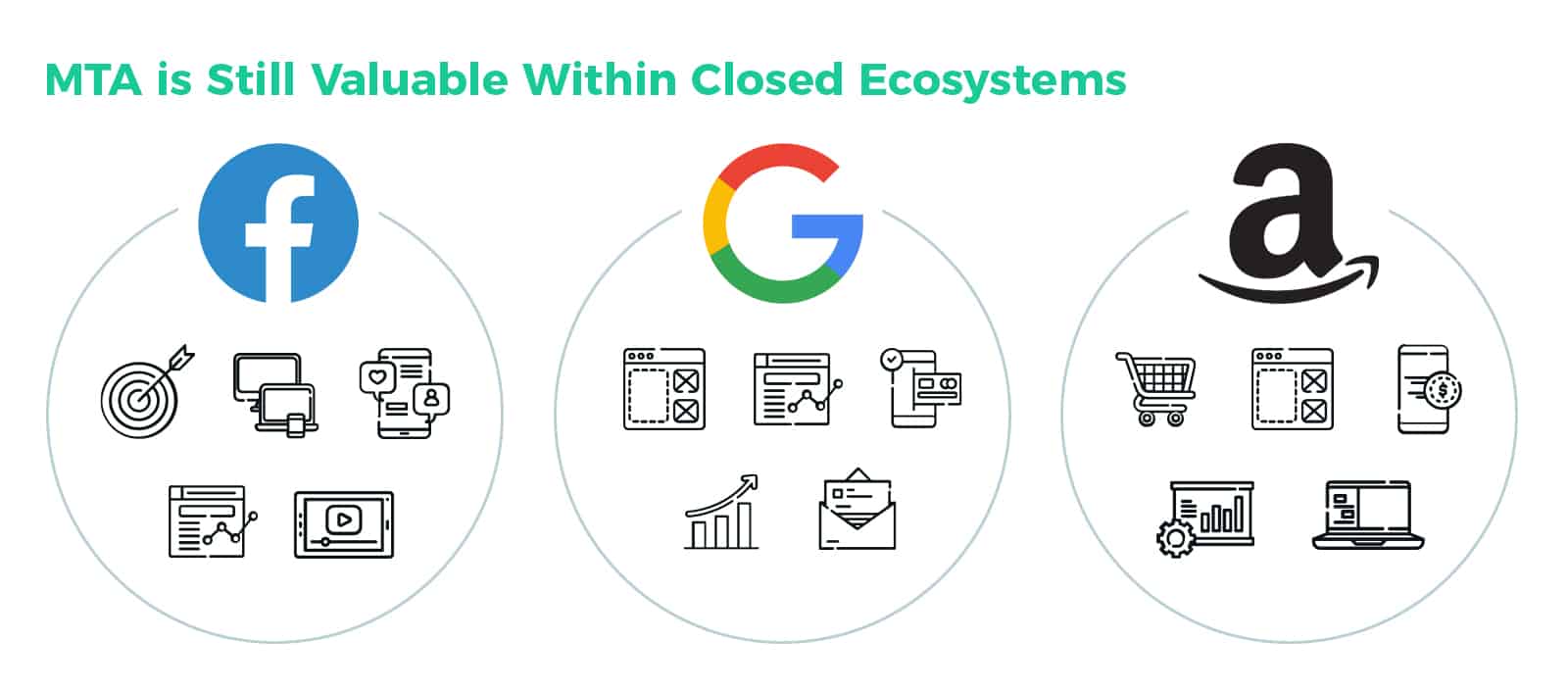 The good news here is that the advertising world is already moving this way ads digital investments are moving to those giant publishers—nearly 2/3rds of all digital ad spending is being spent just with Google, Facebook, and Amazon.  Remember, the tracking issues in which the industry impacts measurement, but also ad targeting, personalization, and other advanced tactics marketers have enjoyed over the last decade. 
CAVEAT #1 – Even with the strong tracking that these publishers can maintain with logged-in users, MTA is directional. For example, Google can see the 5 ad exposures to a single user, but it might have been an email, a TV commercial, or some external marketing interaction that influenced a conversion. But, for optimizing bids/budgets/ads, a closed ecosystem's MTA can be helpful for channel practitioners.
CAVEAT #2 – This information won't be helpful to determine budget allocation between channels, just intra-channel optimizations. A new measurement approach will be needed to determine cross-channel media-mix effectiveness.
Goodbye MTA, hello Incrementality
Regardless of how hard this transition will be, multi-touch attribution in a cookieless world won't be a sustainable strategy pretty soon. So, some channel practitioners will still be able to tap into some MTA to optimize their programs, but as the primary/default measurement methodology, multi-touch attribution has had its day. 
What is the right approach? Well, Incrementality is certainly at the top of marketer conversations these days. 
Why? Because Incrementality:
Is a cookieless measurement solution

Can determine if ad elements had

any

incremental value to a conversion

Is able to answer questions MTA could never answer such as the impact of offline marketing on online sales—and vice versa
Incrementality is a bit different than MTA and simply can't be swapped out like using a new email tool. It will require more planning and discipline. I will be writing more about that next month. 
For more information on Skai's Incrementality testing platform, Impact Navigator, please schedule a quick demo. Seeing this tool will help to illuminate how Incrementality works and how you will be able to replace MTA with a much more accurate and flexible measurement approach.