D2C (direct-to-consumer) brands tend to be nimble advertisers that are using digital-first media plans with a heavy emphasis on Facebook and Amazon advertising to quickly gain awareness, customers, and market share.
We all remember "Mike, founder of the dollarshaveclub.com" in this 2012 viral ad campaign:
But little did we realize that this was the start of a new phenomenon of the direct-to-consumer (D2C) brand.
Since then, the number of D2C brands has exploded and these digital-savvy companies are leading the way when it comes to customer acquisition. In fact, eMarketer highlighted that the total amount of time spent on a selection of 25 D2C brands' websites has more than doubled over the past two years: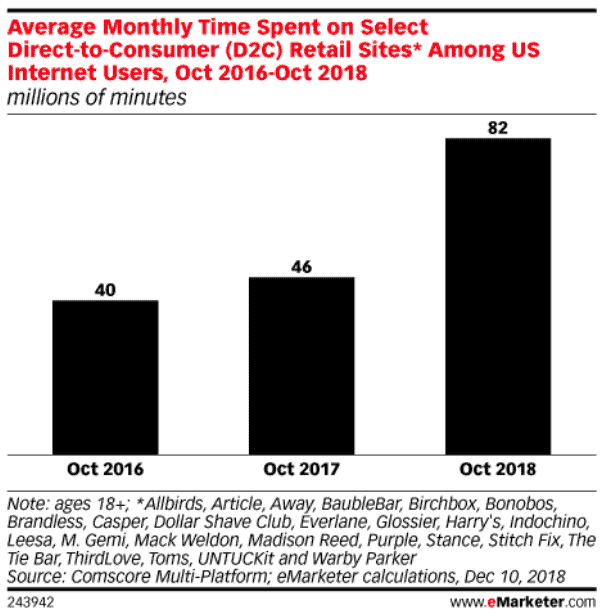 So just how are these D2C brands getting it so 'right'?
Well, they've relied heavily on performance-based digital advertising strategies especially across Facebook and Instagram. More recently, however, their success has been further assisted by the powerful tools Amazon has developed to strengthen the opportunities for brands to use the Amazon marketplace platform and advertising offering as their D2C engine.
With Brand Registry 2.0, the democratization of A+ Content, Amazon Brand Stores, Project Zero, and richer advertising opportunities—up and down the funnel—Amazon has delivered an arsenal of tools for brands to own their presence and compete on its marketplace. D2C brands are taking this ball and running with it.
Amazon innovation embraced by D2C brands
Probably the most exciting developments for brands are the Amazon Attribution Beta and Amazon Brand Store Analytics which are both historic developments for Amazon and give brands the first insights into how their marketing tactics offsite contribute to shopping activity on Amazon.
One such tactic that we are particularly interested in—and so are D2C brands—is the impact of driving Facebook ads to a brand's Amazon Store. eMarketer reports that of consumers who engage with brands on Facebook and ultimately purchase, 42% convert on Amazon. The cross-channel power here is undeniable.
We took this stat from early 2018 as impetus, and collaborated closely with both the Amazon Brand Stores and Facebook product teams to help unearth an Amazon Brand Stores Analytics tracking solution that was mobile-friendly which can deepen link between the Facebook mobile app (where we saw 90%+ of traffic in tests) and the Amazon mobile app with persistent tracking. With this effort, Skai can now optimize Facebook ads down to the ad unit level when they are pointed at Amazon Brand Stores.
While Amazon Attribution is not quite mobile-ready yet, we continue to work with the Amazon product teams to innovate and think up creative ways that Skai's platform can streamline the implementation of click tracking and impression pixels in this program.
The potential is truly exciting and now is the time to take advantage of Skai's 12+ years' of development with enterprise search and social technology with regards to the Amazon Advertising opportunity.