One of the many ways the pandemic impacted our daily lives was that consumers were stuck inside more than they had ever been before. Often with little to do but redecorate, learn to bake, or pick up some other new hobby, accessing those supplies, along with regular staples like cleaning supplies and groceries meant that even those who weren't familiar with online shopping quickly became pretty well-versed.
In fact, McKinsey claimed in a recent report that the landscape of online shopping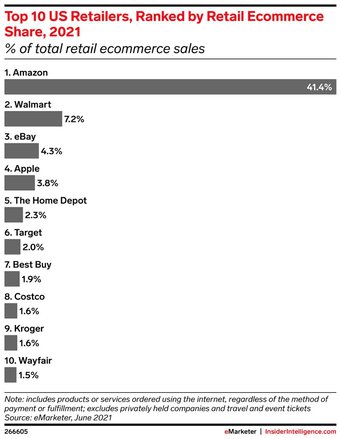 progressed by a "decade in days," over the course of just three months in 2020. Likewise, a May 2020 Mintel report found that 43 percent of shoppers reported shopping direct-to-consumer more than they did in 2019.
In order for brands to compete in an ever-increasingly competitive ecommerce landscape, they must focus their efforts. Amazon is a particularly important retailer that should take up a lot of attention. After all, the online retailer pulls in nearly half (41.4%) of all ecommerce sales in the US.
What types of market intelligence platforms perform Amazon market research?
Veteran Amazon Advertisers know that the key to winning on this platform is the right insights that can fuel the best data-driven optimization choices that lead to more ROI.
Here are some of the most important types of market intelligence for Amazon that advertisers need to harness for 2021 and beyond. 
Retail Analytics 
Retail analytics is a category of market intelligence for Amazon that can help advertisers predict trends before they happen. Then, they can quickly make real-time decisions based on those insights in order to make successful and profitable decisions. Until very recently, those who were hoping for retail analytics from Amazon had two options: take the limited data Amazon offered for free with its Amazon Retail Analytics (ARA) Basic or pay $30,000 a year for ARA Premium. 
In February, however, Amazon rolled out a new reporting platform for Vendor Central called Brand Analytics. This new tool replaced ARA Premium and ARA basic for those companies that are Brand Registered (a program that basically offers identity protection on the platform). With Brand Analytics, data is more accessible, and these changes mean that brands now have access to previously paywalled data, such as sell-through and customer demographics.
The following are some of the marketing intelligence for Amazon advertisers that can be provided by Brand Analytics:
Marketing Analytics
Another important piece of the puzzle in terms of market intelligence for Amazon which advertisers need to understand is marketing analytics.
This type of data delves into performance insights derived from advertising practices. Part of the shifting media mix to online marketplaces like Amazon means advertisers and marketers must move away from the brand marketing with which they have historically been tasked.
By accessing Amazon Advertising's marketing analytics, businesses can make informed decisions about how to allocate ad budgets on the platform, set efficient bids, and optimize messaging to improve and maximize their Return on Investment (ROI). 
Luckily, in January, Amazon introduced a tool called Marketing Cloud, which the company describes as "a secure, privacy-safe, and dedicated cloud-based environment in which advertisers can easily perform analytics across multiple data sets to generate aggregated reports."
Within the Amazon Marketing Cloud, advertisers can not only access their own datasets, but also view their Amazon Advertising campaign events, which means at-a-glance measurement of impressions, clicks, and conversions.  Additionally, the Amazon Marketing Cloud can help advertisers tackle campaign measurement, refine audiences, and optimize products.
Amazon Marketing Cloud is currently available in beta for eligible agencies, advertisers, and tool providers in North America, Europe, Japan, and Australia. To learn more about how Amazon Marketing Cloud can work for your business needs, contact your Amazon Advertising account partner today.
Customer Insights
But the Amazon Marketing Cloud isn't the only way that the platform offers important market intelligence for Amazon advertisers. In addition, Amazon also offers a tool called Amazon Insights, which "analyzes and aggregates Amazon customer insights from custom surveys to highlight which product attributes and assets customers say are most likely to impact buying decisions."
Using Amazon insights, advertisers can get individualized customer feedback based on their own products and assets. In order to gather these valuable customer insights, Amazon "aggregates customer responses and provides actionable reporting for each survey, as well as the anonymized raw data collected," and will collect this data around both existing and unreleased products.
Market intelligence for Amazon Advertising is a critical part of best-in-class strategy
Without a robust Amazon advertising strategy focused on not just collecting data, but also deeply understanding the best use cases for that data as part of a customer-focused, insight-driven effort to connect with new audiences on the platform, these insights are wasted.
For more information on how your business can put your data to its most efficient use, download Skai's white paper, "Mind the Data Gap" here.