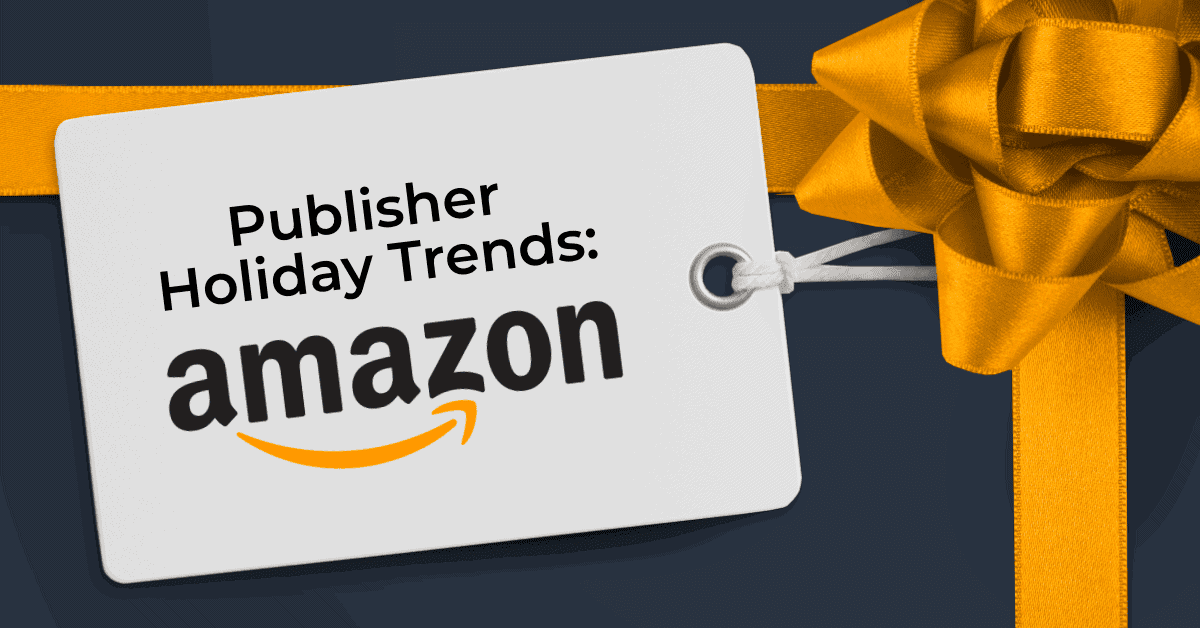 Welcome, Marketers! Every year around this time, each of our publisher partners provides internal research with helpful data & tips that can shed some light on some of the forces and factors that might come into play during the all-important fourth quarter. This post is part of a Skai 2021 holidays series that shares these publisher insights to help you make any last-minute adjustments to your holiday shopping season advertising plans. Click the links within the content below to visit the publisher sources to get even more information.
For brands selling products online, Amazon is, of course, one of the most critical consumer destinations to consider for their holiday marketing plans.
The insights from this article are taken directly from the following Amazon Ads blog posts. Please visit and read these valuable Amazon resources for more detailed information.
When will customers start holiday shopping?
According to Amazon's research, consumers are not waiting for Black Friday to kick off their gift buying. Instead, October is now when shoppers are starting their hunts for the perfect deals.
As reported in a 2021 Amazon Advertising/Kantar survey, 39% of U.S. consumers and 42% U.K. consumers will start holiday shopping as early as October.
47% of U.S.

consumer electronics

shoppers and 45% of U.K. consumer electronics shoppers plan to make holiday purchases in October.

For

fashion and consumer packaged goods.

46% of U.S. and 47% of U.K. consumers reported they will start buying clothing and accessory gifts in October.

42% of U.S. and 51% of U.K. consumers reported they will start shopping for

beauty, pet, and baby gifts.

In 2020, searches for "Christmas gifts" in the U.S. more than doubled from 40.5K in September to 110K in October.

Where will people be shopping?
It should come as no surprise that the online channel is going to be hot this year. With the pandemic pushing more purchases online, consumers have embraced web shopping's convenience, selection, and competitive prices. 
In 2020, online holiday shopping reached $185.88 billion, according to eMarketer. This year,

that total is expected to hit $206.88 billion.

 

64% of U.S. consumers, and 65% of U.K. consumers, reported that they plan to do

at least 40% of their holiday shopping online

this year.
What will consumers be shopping for?
Every marketer would love to have a crystal ball to predict which of their items will be hot during the holiday shopping season. Amazon may not have crystal balls for sale, but they recommend keeping up-to-date on what items are trending, go to Amazon's Best Sellers list.
In 2020 (in the US), some of the

best-selling items during the holidays

included the Echo Dot, Barack Obama's "A Promised Land," the REVLON One-Step Hair Dryer and Volumizer Hot Air Brush, Lite-Brite Ultimate Classic, Amazon Smart Plug, and 23andMe Health + Ancestry Service: Personal Genetic DNA Test.

In 2021, "athleisure" has been a hot category.

Overall athleisure sales in Amazon's store increased by more than 50% year over year, with sales of athletic bottoms increasing more than 40%, athletic tops by more than 45%, and leggings by more than 90%.

Popular electronics gifts on wedding registries

include the Ninja Professional 72 Oz Countertop Blender, Instant Pot, iRobot Roomba 675, Ninja Air Fryer, and KitchenAid 5-Speed Hand Mixer. 

Luggage sales

are up a whopping 460%.

Event and party supply sales more than doubled year over year

as of April 2021, with tableware and party decorations among the top-selling product categories.

Premium lipsticks

increased by more than 58% year over year as of April 2021.
Shoppers are open to discovering new brands: Use Amazon Ads to influence purchases
Just because people are shopping on Amazon does not mean that they already know exactly what they're going to buy. Amazon Ads are an incredibly valuable tool for brands to reach shoppers before making their final decisions.
64% of buyers are undecided on a brand while toy shopping and are open to engaging with advertising.

Of these shoppers, 12% had a brand in mind and switched.

13% had multiple brands in mind and decided while shopping, 

37% had no particular brand in mind and made the decision while browsing.

Quality, reviews, and recommendations are also important deciding factors. Of those surveyed who were browsing multiple brands: 

25% made a purchase because the quality was better.

23% because family or friends recommended it.

23% because it had great reviews or ratings.

Holiday marketing tips
The following tips come from the Amazon Ads post, 6 holiday marketing ideas for 2021 by Julie Weitzner, EVP at Sellwin.
Optimize supply chain and holiday assortments
Ongoing supply chain challenges may affect inventory flow in-season for some product categories. 

Be nimble with inventory availability for promoted ASINs and ensure that you have an adequate supply of advertised SKUs.

Holiday shoppers are looking for great deals. Develop strategic promotions with competitive pricing mapped to appropriate in-stock levels to meet demand throughout the promotional period.

If a deal runs out, have an alternative ready. Brands that do not have the depth of deals and inventory may find themselves doing well but running out of steam early in the season.
Plan your retail media holistically
Sellwin advises clients to take a three-pronged approach to maximize potential:
Recruit

new-to-brand audiences by creating awareness and excitement

Respond

to category interest by educating audiences about your brand's unique qualities and removing any potential friction in the path-to-purchase

Reconnect

with product detail page and Store page visitors, providing strong calls to action to inspire purchases
For more of Julie Weitzner's great tips, read her post on the Amazon Advertising blog.
Maximize your Retail Media holiday shopping season performance with Skai
Amazon has provided some fantastic tips and stats in their holiday content. Still, marketers need more than just great insights to win this Q4 in the highly competitive Amazon landscape.
Skai's Retail Media solutions: Automation, optimization, campaign management & reporting made easy
Automated keyword harvesting. Rules-based and algorithmic options are available, including support for negatives

Dayparting for Sponsored Products, Sponsored Brands & Sponsored Display

Budget management tools to pace budgets across Sponsored Products, Sponsored Brands & Sponsored Display

Access to inventory, forecasting, and hourly sales data

Paid & organic share of voice

And much, much more!
For more information, visit the Skai Retail Media solutions page.
You can also reach out to schedule a quick demo to see all of these great features in action.