From product discovery to purchase, consumers have embraced retail media at every stage of the buyer's journey. That's likely why eMarketer declared 2022 the "Year of Retail Media."
And true to predictions, 2022 was a banner year for the channel. Statista estimates that advertisers spent 41 billion on retail media last year, and forecasts predict it will reach $160 billion by 2027, making up 18% of global digital advertising and 11% of total advertising. Though that doesn't quite put retail media in league with search and paid social, digital's newest channel allows marketers to influence shoppers within online stores and closer to the point of purchase, expanding the customer journey and driving higher conversion rates.
To understand how marketers are using retail media, we asked 167 retail media brand/seller marketers more than 35 questions about spending, success, and omnichannel potential. We found that marketers are increasingly using retail media in all stages of the buyer's journey to break down channel walls for a holistic approach to omnichannel marketing. 
Here are the key findings about how many brands are evolving to an omnichannel retail media strategy
Retail media encompasses search and social
When most people think of retail media advertising, they think of keyword-triggered messaging. And while sponsored product recommendations are still a big part of retail media strategy, it may be surprising to know that paid social is the most important retail media ad format for marketers. 
Retail media competition is rising, and marketing organizations must continue to evolve. The State of Retail Media 2023 surveys 167 retail media marketers and provides a valuable snapshot of how practitioners approach the channel, such as:
Spending trends

Success KPIs

Operationalization challenges 

Team & tech structure  

Omnichannel retail media strategy
Ad formats will likely be on the rise next are also surprising: streaming TV and/or video ads and search engine ads are high on the list. The fact that paid social and paid search are increasingly important to retail media marketers is indicative of a big change within the industry, representing a shift from thinking of retail media in terms of a means of promoting products within a retailer's ecosystem to part of a unified, omnichannel retail media strategy to meet shoppers across platforms and guide them through the purchase funnel at each touchpoint.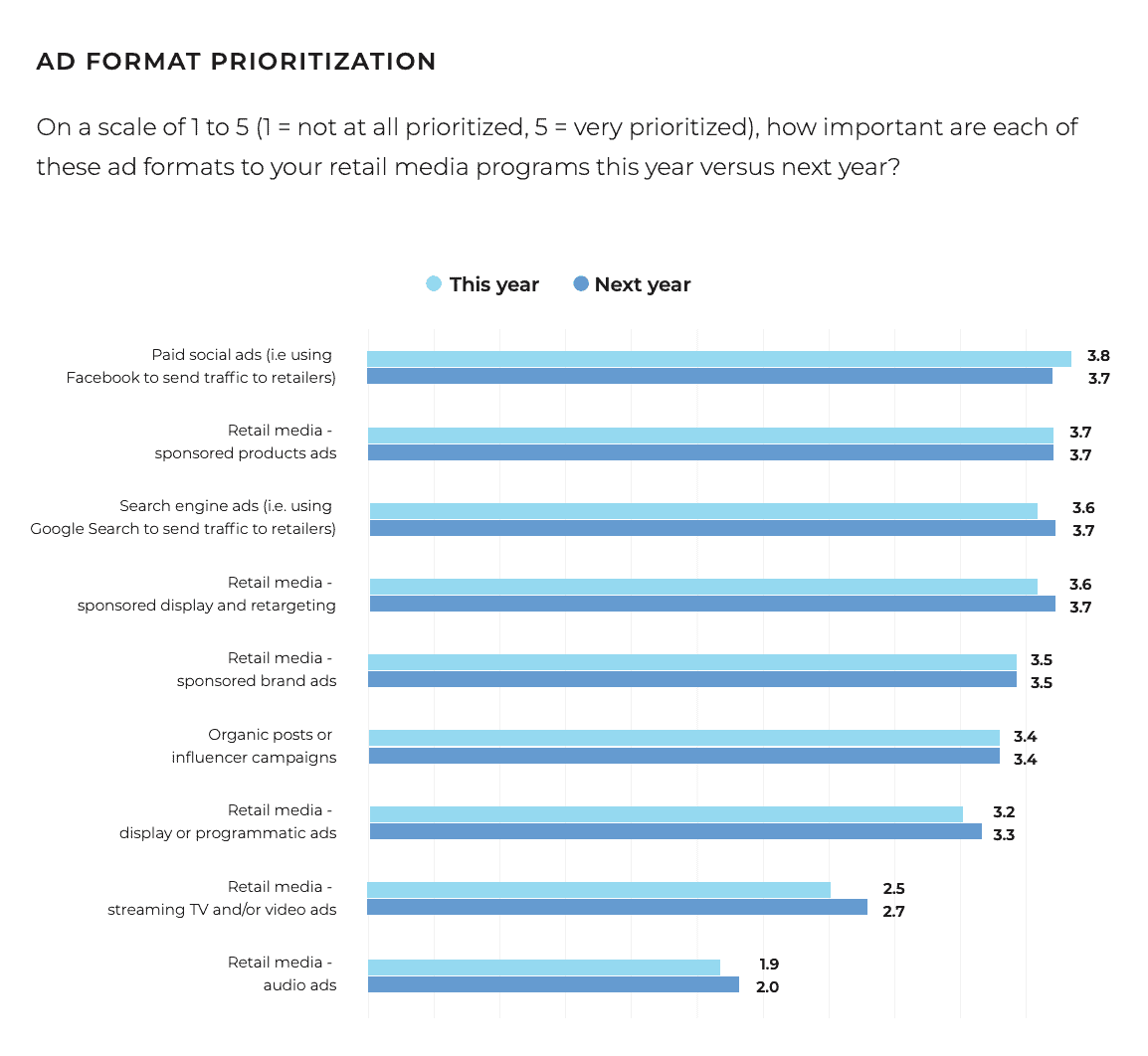 Retail media is coordinated
Though retail media as we know it has only existed for a little more than a decade, most marketers feel that their strategies are reaching maturity. And part of that maturity is understanding the ways that retail marketing can coordinate with and bolster efforts on other channels. In fact, only 9% of respondents said that their retail media channels were not integrated with other digital ad channels. 
A focus on an omnichannel retail media strategy is breaking down channel walls
And as retail media reaches maturity, most marketers see this channel as a way to break down walls in order to build a more efficient omnichannel strategy. More than three-quarters of marketers consider search shopping (such as Google shopping ads) as part of their retail advertising program. Integrating these ad types is a major step toward creating a holistic approach to the buyer journey, using one channel to inform the other and fill in information gaps about the buyer journey. 
Retail media is consumer-first 
Increasingly brands are putting strategy first and considering channels in terms of overall strategy rather than siloing efforts. In fact, 75% of our respondents say that they are currently using channels like paid social and/or paid search to drive traffic to (and sales through) retailer partners. 
The majority of respondents also report that they are using a significant part of their paid social and paid search budgets to drive traffic to retailer partners. Not only is this an indicator that retail marketing is an increasingly crucial part of overall strategy, but it's also pretty strong proof that retail media works outside seller platforms, offering a way to boost brand awareness and drive sales no matter where customers are browsing. 
To learn more about why 96% of marketers say retail media helped achieve desired brand impact last year, download our full State of Media 2023 report.