If 2020 taught us anything, it's that ecommerce is here to stay, and as more CPG manufacturers fight their way to engage customers through a new 'digital-normal', a big decision comes into play: leverage traditional retail go-to-market channels or to go direct-to-consumer (D2C)? 
When the pandemic shut down brick and mortar businesses, the D2C model proved to be an advantageous one. With ecommerce penetration surging right now, brands are even more interested in leveraging the D2C playbook for themselves—whether that's all-in or coexisting with their traditional channels.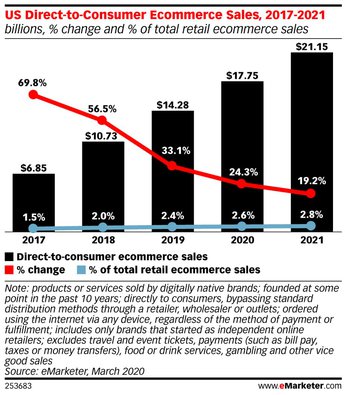 This year, D2C ecommerce sales are expected to reach over $21 billion in the US. While this only represents a single-digit percentage (2.8%) of total ecommerce sales, the fact is that D2C is growing and might be a better fit for this new digital commerce age.
This conundrum brings up new questions:
What are the key benefits and pitfalls of only going D2C vs. only going via traditional go-to-market channels?

How should CPG marketers let D2C and traditional go-to-market channels coexist to make the most impact?

What key considerations should CPG marketers think about to make the most out of their strategy in the long run?
The Skai 5: Five D2C Challenges
In the recent Skai Ask the Experts live event, Coexist to Exist: Why D2C and Traditional Go-To-Channels Should Go Hand-in-Hand, three ecommerce experts weighed in on how brands might think about moving forward with D2C, even if it's just a complimentary piece to their traditional go-to-market approaches.
PHD'S Media's Sebastien Bourne and Muc-Off's Olivia Prince joined Skai's Kevin Weiss to talk about the recent rise of ecommerce and why it has forced companies to start thinking differently.
"Brands have had to completely pivot to ensure survival," explains Prince. "The traditional landscape has completely changed within the space of twelve months."
While brands are attracted to the D2C model because of its direct relationships with customers, richer data to optimize their programs, and higher margins on sales by bypassing the retailer split, the experts agreed that it's not as easy as it sounds. "Prices, marketing, sales strategy, are set by the business," says Bourne. "D2C also means that it owns its data and can make informed business decisions."
In this edition of the Skai 5, learn about the five challenges of going D2C which brands should consider before committing to this business model. 
D2C Challenge #1 – Fulfillment logistics
Prince explained that the shift from a brand handling orders themselves as a D2C  versus relying on retailers to handle those logistics cannot be underestimated. Fulfillment is a very difficult piece of the retail chain that takes a lot of effort, planning, staffing, and infrastructure.  
"You go from shipping pallet loads of goods out to a retailer which in a lot of ways it very easy," says Prince "…and then you go to shipping individual parcels." 
Not only does a D2C brand taking over fulfillment have to ship each package themselves, but there are many nuances that retailers have solved over decades of trial and error. There can be a lot of issues with shipping depending on the items from certain restrictions around how cleaning products need leak-proof packaging, special boxes and handling for fragile items, and even what it means to send goods that can melt, like chocolate. 
D2C Challenge #2 – The Customer Experience
One of the biggest value adds that retailers offer in these partnerships is handling the customer experience. Shipping is just one of those needs, but there are so many other parts of dealing directly with customers that brands might take for granted.
The user experience is a key consideration to not just win a single sale, but to get those customers to buy again—and to make them so satisfied that they brag about you to their friends to generate referral orders. For example, just ensuring that your call center is in order can take months or years to set up. Then there's the way you handle returns that can be a nightmare if a clear internal process isn't set.
Retailers are also very good at creating experiences that draw customers in, such as the community aspect around what they do. These kinds of deep consumer engagements are what brings customers back and D2C brands must be able to serve up a flawless experience as well as any retailer.
D2C Challenge #3 – Credibility
Trusted relationships are something that retailers—think Amazon, Walmart, Target—have taken years and decades to build. Consider how easy it is to order from Amazon. Most online shoppers already have their shipping/billing information on file, are tapped into some sort of loyalty program, and have zero fears of how their favorite retailers will handle the business relationship. The expectations have been set that orders will be on time and on point—and if they're not, the retailer will figure out how to fix it quickly.
On the other hand, consider the difference when you start an order with a D2C brand. You don't yet know how well they will treat you, if their orders will be timely and correct, and even how they are going to safeguard your personal information. The hesitancy to transact with an unknown company can create friction in the sales process. This is something household name retailers don't have to worry about.  
D2C Challenge #4 – Attracting & retaining customers
For decades, the traditional model has been that manufacturers make things and retailers sell those things. Obviously, one of those key components to garnering sales is customers. For many retailers, those channels are already open and thriving as consumers have something they want to buy and then know where to go to get it. Part of the marketing machine is to keep that traffic flowing.
For brands that want to enter the D2C arena, they must understand that all of that marketing is going to be on their shoulders. They don't have the built-in foot traffic/eyeballs that retailers garner. They must have sophisticated media planning and buying—whether in-house or through agencies—along with a highly efficient measurement and optimization program. 
This is easier said than done. It's also a lot more expensive than simply letting your retailer partners bring in customers to buy your goods. Sure, the margins are higher when you sell things yourself, but if you can't attract and retain a customer base on your own, you might have to rely on retailers to do that for you.
D2C Challenge #5 – Ramp-up period
Transitioning from a traditional manufacturer/retail market strategy to a direct-to-consumer one can be challenging. It's analogous to building your own house versus hiring a contractor to do it for you. There are so many things to figure out and put into place before you can truly handle all of the new pieces that you have to handle.
What you don't want to do is jump in with both feet before you're ready because you can end up missing the mark and failing. If shipping times are extremely long, you keep going out of stock due to increased demand, or you can't handle the customer relationship perfectly, you could potentially foster a negative relationship around your brand.
Because of that, the only way to really proceed—with any new venture—is slowly and methodically. Brands thinking about transitioning to a D2C model must realize that a ramp-up period is critical to long-term success, but it may mean lower sales in the short term. That may not dissuade them from taking the leap, but rather something that needs to be expected. 
Skai: The Data + Insight Advantage
While the acceleration of the digital marketplace has been evolving over the past few decades, the pandemic created a "new normal" for businesses that have brands scrambling to adapt.
Whether your brand is focused on traditional models or looking to embrace new approaches such as D2C, Skai's suite of platforms can help you make smarter, predictive decisions at every turn with all the data you need and faster time-to-insight. Our rich data solutions provide AI-contextualized, actionable intelligence about consumer sentiment, market trends, competition, and more.
For more information on how Skai can help your brand thrive in the new normal, please reach out today and schedule a brief demo.