Smart Bidding can be a huge time saver. But, with any tool, it's when and how you use it that makes all of the difference. Skai's system works very well with Smart Bidding and gives a lot more control back to marketers when they use the Google feature.
There's no doubt that marketers are very interested in leveraging technology to help drive business goals. And the notion that automation driven by intelligent machines to tackle a lot of the repetitive—yet important—tasks that digital advertisers spend a bulk of their day handling would be absolutely welcomed by today's time-poor marketer.
In 2016, Google announced the arrival of Smart Bidding on its blog, "Smart Bidding is our new name for conversion-based automated bidding…that reflects the powerful machine learning behind it. Smart Bidding can factor in millions of signals to determine the optimal bid, and it continually refines models of your conversion performance at different bid levels to help you get more from your marketing budget.
What has been your experience with it so far?
Good? Bad? Inconclusive?
Marketing automation driven by AI and machine learning is growing every year.
Smart Bidding: A Tool is a Tool
Ultimately, as smart as Smart Bidding can be, it's still just a tool. And tools require their operators to know what they're doing or they can have mixed results. A hammer is great for a nail, but a screwdriver isn't. A shoe can make a good hammer, but not for all nails.
As simple as it is to turn on, Smart Bidding is a very complex tool and search marketers should really understand what it is, what it does, and how it works before turning over their campaigns to it. In some cases, it won't do what you hoped it would do. In other cases, it's really a great solution that saves a ton of time and squeezes out more return from the marketing budget.
So, in some cases, Smart Bidding is the right approach and in others, it might not be.
What should a marketer do?
Skai + Smart Bidding = The Best Solution
Skai helps to solve for one of the bigger challenges of using Smart Bidding holistically which is that most search marketers don't just work on Google alone, and the feature only works on Google.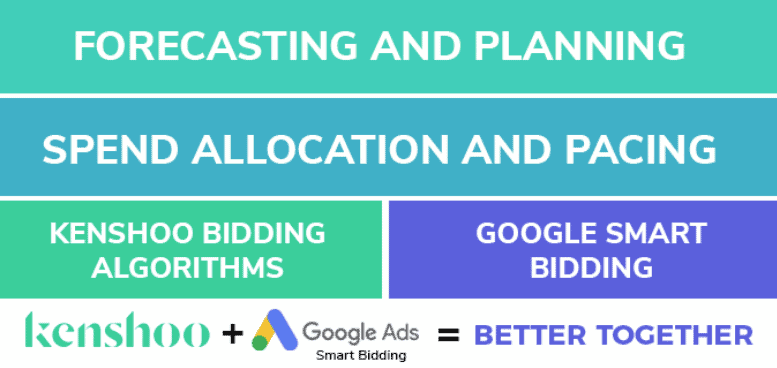 When combined with Skai's Budget Navigator our customers can benefit from Google Smart Bidding and automated budget allocation from Skai to truly maximize efficient return on ad spend (ROAS) across a search marketer's entire portfolio.
Think of it this way: Smart Bidding can get you a pretty efficient Google Ads program but what if your other search campaigns off of Google are working better. Smart Bidding just doesn't know to recommend shifting budget out of Google if that's what's needed to have the most efficient program possible.
Skai also has budget pacing and forecasting tools that can help marketers best manage their campaigns.
Skai and Smart Bidding in Action
In a recent Skai case study, the One Digital agency team worked closely with Skai's Customer Success teams to ensure that they understood the best approach to use the power of Skai in conjunction with Google's Smart Bidding.
One Digital's client, ShopFácil.com, was able to achieve better results by combining Skai's automation tools with Smart Bidding on a recent campaign to increase revenue by 17%, decrease in CPC by 10%, and increase in Target ROAS by 18%, while also slightly reducing total spend.
Want to learn more?
For more information into Skai's automation solutions and how you can pair the system with Google Smart Bidding for more control over your budget, pacing, and forecasting, please contact us or schedule a quick demo of Skai Search today.