The first era of retail media advertising is over. As the industry continues to evolve, there is more competition than ever impacting the performance of advertisers in the space.
One of the most essential forms of competitive intelligence for online commerce is share-of-voice.
As you may have read in our recent paper, Amazon Ads Inflation, industry research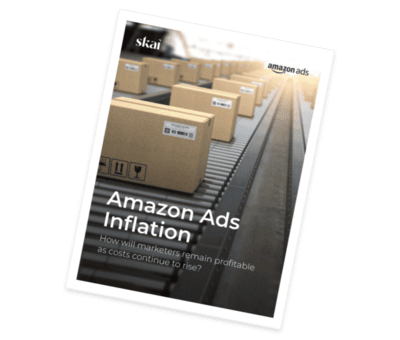 shows that Amazon Ad CPCs have gone up over 50% in the last year given the increased utilization of paid ads. This severely impacts ROI, which has retail media advertisers rethinking how best to run these programs. 
Download your complimentary copy of the new Skai report, Amazon Ads Inflation, today!
On top of increased ad costs and steepened competition, other factors such as the explosion of ecommerce and the proliferation of retail media networks add an additional layer of complexity. 
So, how will marketers continue to drive performance in the second era of retail media advertising? Smart money is on better intelligence. Specifically, deeper retail analytics and insights to help guide better decision-making while navigating these rougher waters.
What is retail media share-of-voice, and how does it help drive program performance?
Share-of-voice, or simply SOV, is a long-standing marketing analysis that describes how much market share a brand owns. This can be measured in sales, sentiment, or other ways. In television advertising, for example, SOV is generally what amount of commercial air time or spend is purchased by a brand in relation to their category. For example, last month, Car Brand A's SOV was 14.1%, Car Brand B's SOV was 12.7%, etc.
In retail media advertising, SOV has become a very specific set of metrics to detail a brand's presence in online retail search results—both paid and organic listings.
The retail media team selects keywords to track, and then AI continuously collects this data from retail search pages. SOV data is then displayed via a dashboard for practitioners to analyze to gather insights to forecast trends. 
Drive performance with SOV in many ways, including:
Analyzing and tracking competitors' keyword strategy

Identifying new category advertisers 

Tracking trends to optimize bidding strategy, RoAS, and market share

Understanding the interplay between paid & organic listings
Those are just a few uses. Every brand finds ways to use SOV differently, but its core functionality provides your team with a clear view of their presence within the digital shelf.
Skai's Brand Insights delivers the comprehensive competitive intelligence you need to keep up retail media performance
Skai's Brand Insights is a powerful tool within Skai's Retail Media solution that tracks the SOV for your brand and your competitors visualized with an easy-to-read dashboard. It's all keyword-based, so it couldn't be simpler to load up the keywords you want to track, and our AI does the rest. Soon after, data will start to populate, and your team can immediately begin mining insights to power their optimization decisions. 
Skai's dashboard makes data science quick and easy for marketers to build insights
See SOV insights by brand
"One of the most vital areas for brands and agencies to find success with this opportunity is through competitive intel," says Hannah Blackbourn, Managing Director, Commerce @ Skai. "With the Brand Insights, Skai clients can better plan and manage their Amazon campaigns based on what's actually happening on the search results pages. Advertisers without this information are basically blindly running their campaigns without the understanding of where the gaps are in their programs."
What's included and how is it different from what Amazon provides
Our Brand Insights capabilities are growing with a full roadmap of client-sourced ideas. 
Amazon does have a pretty good set of SOV data for advertisers, but it doesn't offer nearly as much as Skai's Brand Insights.
Amazon only reports on Amazon SOV (Skai has Amazon, Walmart, and Target today, with more coming soon)

Amazon only reports on paid listings (Skai reports both paid & organic)

Amazon offers a report (Skai has a full dashboard)

Amazon only reports your brand SOV (Skai offers your brand and your competitors)
There are also a host of other minor advantages that make Skai's tool a much more comprehensive tool for serious retail media marketers.
What share-of-voice metrics are available?
These metrics are the aggregation of brand listings on the first page of the search engine results page (SERP). To start gathering insights, our customers select:
Date range to trend insights over time

Which keywords to analyze (from the list of tracked keywords)

Paid listings, organic listings, or both
Share of First Page by Organic and Paid
The total number of listings divided by the number of results your brand covers on the first page of search results. For example: If a keyword includes 50 organic search results and 10 of the organic search results are from your brand, then we report your organic SOV is 20%.
Distribution of Appearances on First Page
The number of listings on the first page by organic versus paid versus the total number of results on the first page of the SERP.
Share of First Page by Top Brands
Displays SOV across organic and paid for your brand measured against the top brands. 
Share of First 5 Positions by Top Brands
This isolates SOV for the top 5 results for your brand measured against the top brands. If you filter for organic, it tracks the top 5 organic rank positions. If you filter for paid, it tracks the top 5 paid rank positions. If you include both organic and paid filters, it will blend the data.
Share of First Position by Top Brands
The same as Share of First 5 Positions by Top Brands but isolates that data for the first position on the SERP. 
Share of Position by Brand
Evaluates positions 1 through 5 but with a useful side-by-side visualization. 
Example scenarios where Brand Insights drives value
Incrementality & Lifetime Value. Some retail media marketers don't manage ACoS or RoAS. They manage SOV and market share growth. Driving new customer sales is essential with retail media. Even if maintaining a high SOV isn't profitable on the first purchase, it continuously drives incremental revenue and influences lifetime value.

Maintaining a high SOV is a major factor with ecommerce. Once a customer purchases your product online, it creates a strong signal for retailer algorithms to continue to promote that item to them, i.e., "buy again."  Layer in product subscriptions, targeting new promotions, and other targeting options, and you've built a full-proof strategy protecting your customers from your competitors.
Landgrabbing. Dominating the SERP is a common goal for brands across categories. Competitive analysis and staying on top of the SOV trends can lead to optimized bidding strategies to improve market share.
Staying in the lead. Category leaders can use Brand Insights to stay on alert for new challengers.
Looking for gaps to exploit. Challenger brands can use SOV to find keywords that bigger brands aren't prioritizing. For example, maybe a candy brand is investing heavily in chocolate, but not specifically the term candy bars. 
Paid and Organic insights. SOV data can help marketers understand how their paid strategy and organic strategy work together to drive sales. In some instances where brands are strong organically, they may be able to reinvest budget to help with keywords where they are less present.
Optimizing your PDPs. When you see another brand beginning to creep up the SOV rankings, you can check out their product detail pages (PDPs) and find interesting ideas to consider. What keywords are they using in their title or copy? Which value propositions are they pushing higher up the page? What images or videos are they using?
Catching a trend. The ideal scenario is when you discover a new trend working for a competitor that you can use. For example, when gluten-free started becoming the craze some years ago, there were food products like cereals, vegetables, and grains that could promote that too. The brands that caught on early could take advantage of the fad first.
Manage your retail media programs with SOV using Skai
As part of Skai's omnichannel marketing platform, our Retail Media solution empowers brands to plan, execute, and measure digital campaigns that meet consumers when and where they shop. Built with best-in-class automation and optimization capabilities, our unified platform allows you to manage campaigns on 30+ retailers, including Amazon, Walmart, Target, and Instacart, all in one place. 
Best of all, Skai clients have free access to Brand Insights directly within the platform. 
Client results from our Retail Media solution include:
For more information or to schedule a quick demo to see Brand Insights in action for yourself, please reach out today!