Creative assets are the lifeblood of any marketing campaign. They're what capture the attention of your audience, tell your story, and drive results.
However, managing creative assets can be challenging. They're often scattered across multiple channels and platforms, making it difficult to keep track of them and optimize their performance.
The future of creative asset management is here
That's where the Skai Creative Center comes in.
It's a single location for storing, organizing, and managing all of your creative assets. It's easy to use, powerful, and scalable, so you can manage your creative assets and maximize their performance across campaigns.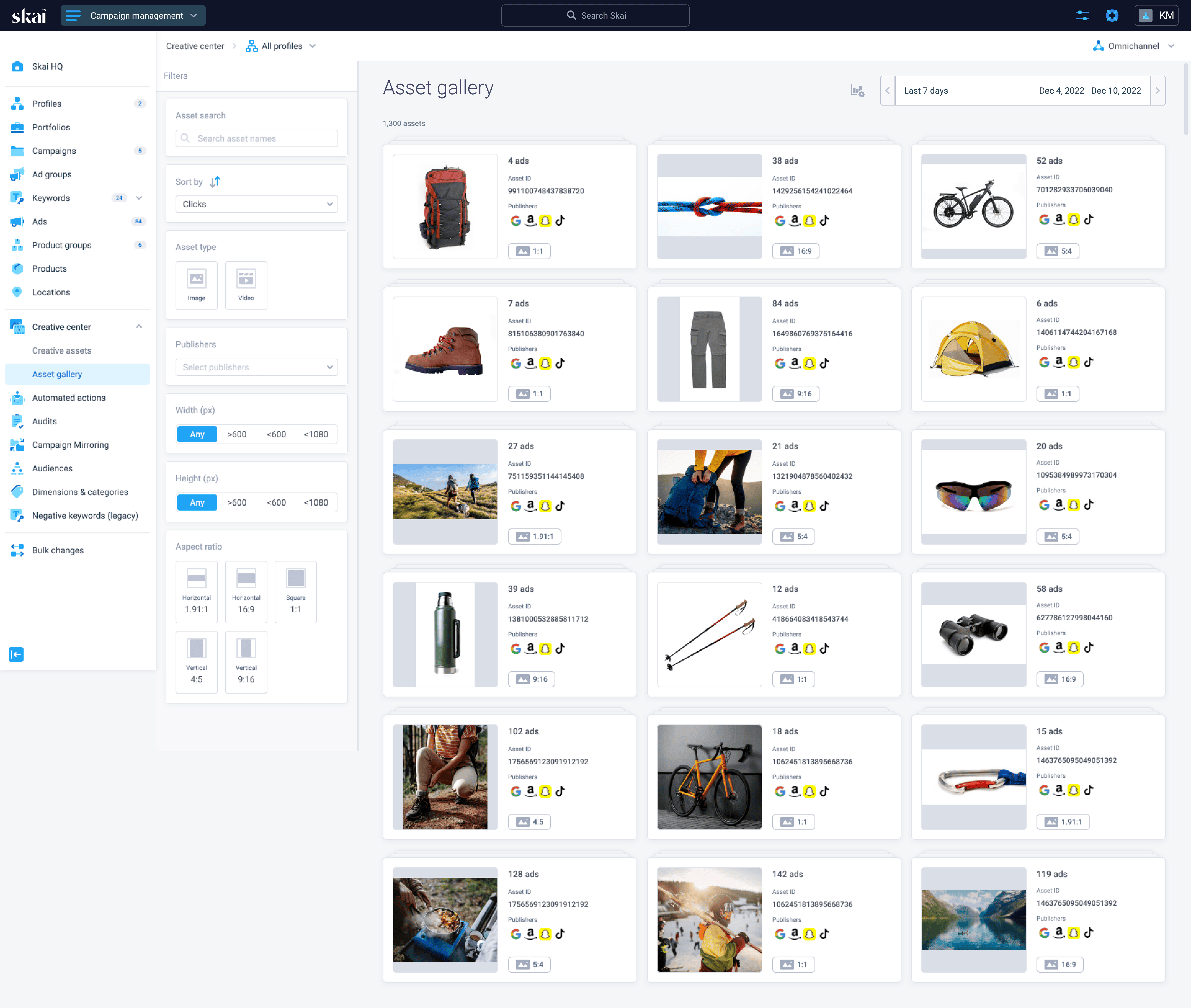 Creative Center: the new way to manage your creative assets
Creative Center consolidates scattered cross-channel creative assets into a single grid for enhanced efficiency and campaign effectiveness.
Some of the main benefits of Creative Center are:
Creative consolidation
Customers often have creatives scattered across multiple publishers, making it difficult to work with them and analyze performance across channels. Creative Center brings all assets into one central location so you can easily monitor and compare performance insights for creative assets across all campaigns in one place and test different versions to see what works best.
Faster activation and collaboration
Siloed creative data is often only accessible to specific individuals or teams, making it challenging for others to understand how assets are performing across other channels. Now, with Creative Center, you can close the feedback loop between analysis, activation, and creative iteration with streamlined processes for reports and briefs. All creative assets will be visible across the organization in an easy-to-use grid, allowing for a more holistic view of creative performance and faster creative decisioning.
Streamlined reporting 
Creating creative briefing reports can be a tedious and time-consuming task, often taking hours/days to consolidate. Creative Center streamlines the creation of your cross-channel creative reports with ready-to-use templates in our dashboard tool, so you can have them ready to go in minutes on a routine or one-off basis.
See how it can help you take your marketing campaigns to the next level
The Skai Creative Center is the future of creative asset management, and it's only the beginning. It's packed with features that can help you improve the performance of your marketing campaigns, with new publishers being added all the time.
If you're looking for a way to take your creative strategy to the next level, the Skai Creative Center is the tool for you.
Try it today, or speak with your customer success manager to learn more.