---
---

The biggest shopping event of the summer, Amazon Prime Day, is just around the corner. While the ink has been dry for some time on your Prime Day marketing plans, Skai's retail media experts have some final advice to help you navigate the season successfully. Today, Skai's VP of Client Success, Peter Phillips, shares some tips for how advertisers can generate the full return on their Prime Day programs via retailers outside of Amazon.
PGRpdiBjbGFzcz0iX2JybGJzLWZsdWlkLXdpZHRoLXZpZGVvLXdyYXBwZXIiPjxpZnJhbWUgdGl0bGU9IkdldCBQcmVwcGVkIGZvciBQcmltZSBEYXkgMjAyMzogSGFsbyBFZmZlY3QgYW5kIEhvdyB0byBUYWtlIEFkdmFudGFnZSBvZiB0aGUgUG93ZXIgb2YgUHJpbWUiIHdpZHRoPSI1MDAiIGhlaWdodD0iMjgxIiBzcmM9Imh0dHBzOi8vd3d3LnlvdXR1YmUtbm9jb29raWUuY29tL2VtYmVkL3h4UlJYOVBTUVI4P2ZlYXR1cmU9b2VtYmVkIiBmcmFtZWJvcmRlcj0iMCIgYWxsb3c9ImFjY2VsZXJvbWV0ZXI7IGF1dG9wbGF5OyBjbGlwYm9hcmQtd3JpdGU7IGVuY3J5cHRlZC1tZWRpYTsgZ3lyb3Njb3BlOyBwaWN0dXJlLWluLXBpY3R1cmU7IHdlYi1zaGFyZSIgYWxsb3dmdWxsc2NyZWVuPjwvaWZyYW1lPjwvZGl2Pg==
As we approach Prime Day, brands and advertisers' expectations are high. And why not? Prime Day has been generating more sales on Amazon than Black Friday or Cyber Monday in the last couple of years. As Amazon's largest annual sales event, Prime Day creates an unprecedented shopping frenzy, but it's not limited to Amazon.
This deal-oriented bonanza creates a halo effect that can bring substantial gains to marketers across various online platforms, from Target to Walmart and beyond.
But, how can marketers fully leverage this opportunity to maximize their commerce programs?
Let's explore.
Stock up!
A rule of thumb for any significant shopping event is ensuring sufficient inventory to meet the surging demand. Remember, an out-of-stock notification not only means lost sales but could also send shoppers searching for your competitors' eroding share over time. With the Prime Day halo effect, your products' appeal could transcend beyond Amazon and other platforms such as Target or Walmart. So, communicate with your suppliers well ahead, discuss your expectations, and devise an inventory strategy that meets the predicted surge.
Capture a wider audience
As we know, Prime Day's influence extends beyond Amazon and can generate a halo effect that will help you capture a wider audience at other retailers such as Walmart and Target. These retailers often launch their own competing sales events during (or around) the same period to capture the attention of shoppers who are actively seeking deals. And during Prime Day, they often see increased traffic and sales, but that's not always the case, so be sure to look at your specific period-over-period metrics by retailer to strategize.
Here are some aggregated stats from our advertisers comparing retailers' performance during recent Prime Days vs the average for each during the previous 30 days: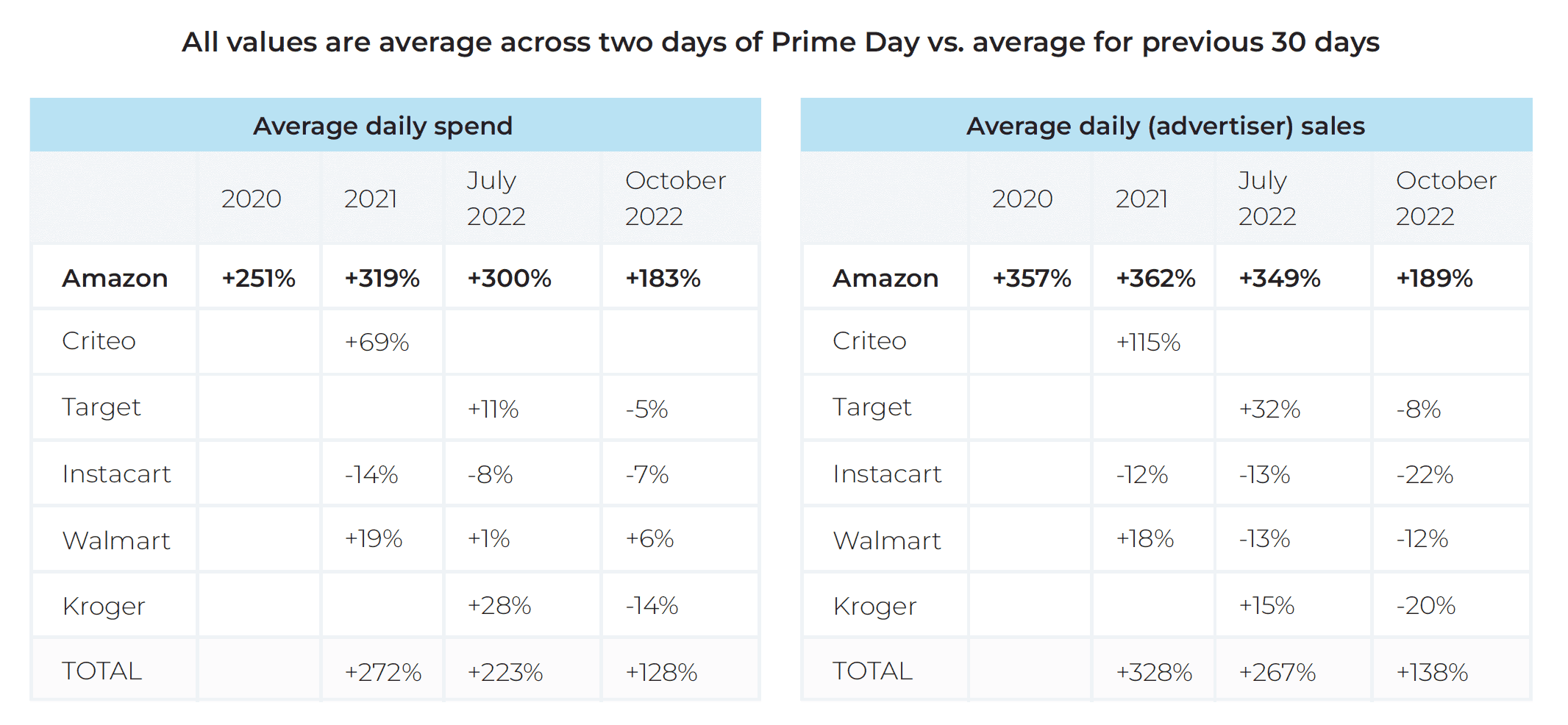 For marketers, this presents an opportunity to leverage the increased consumer interest and shopping fervor during Prime Day, but you have to be smart. On the whole, we haven't witnessed great performance halo effect benefits on Instacart, but that could be different for your specific brand.
For Kroger and Target, we saw a good lift in sales during Prime Day 2022 in July, but that wasn't the case for Walmart (as it had been in previous years). Overall, we may be hitting the point of decreasing returns on the saturation curve. But before you walk away from your advertising investments during this promotional period, consider your goals.
Up your advertising game
To fully capitalize on the halo effect, a well-devised advertising strategy is crucial. A well-targeted ad campaign could extend your reach, garner new customers, and lead to higher sales. Consider strategies such as promoting products from your Target assortment that are complementary to your Prime Day deals or products on Walmart that are competitive with other brands' Prime Day deals
By doing so your brand can profitably capture the increased traffic and consumer interest during this shopping event and boost sales while maintaining KPIs not only on Amazon but also across other platforms. By strategically promoting your products and offers on multiple channels, including Walmart and Target, you can tap into a wider audience and maximize your reach.
Additionally, if your goals are share-based (voice or shelf), diversifying your promoted assortment across retailers becomes crucial during this time of increased shopper engagement. Highlighting both your best-sellers and lesser-known, complimentary items can help you cater to the varying preferences of shoppers across different platforms.
Also, showcasing affordable options that represent your brand can attract first-time buyers who may be browsing deals on Walmart or Target or other retailers' websites. Since these publishers frown upon conquesting, focus building SOV on non-branded keywords. By establishing a positive initial experience and building brand familiarity on these platforms, you increase the potential for long-term brand loyalty and future sales opportunities.
Remember, the Prime Day frenzy will not be confined to Amazon. Other platforms, such as Walmart, eBay, and Target, will also experience a surge in traffic. Therefore, strategize your campaigns across these platforms as well. Diversify your ads, vary your promotion tactics, and keep your messaging consistent with your brand ethos.
Leverage your omnichannel presence
As your Prime Day retail media strategy extends beyond Amazon, so should your wider media strategy. Utilize Google Ads or Facebook Ads to redirect traffic to your retailers. Social platforms like Facebook, Instagram, Twitter, and Pinterest have their own set of engaged audiences, which you should tap into. Use these platforms to create hype around your Prime Day deals, highlight your product benefits, and direct traffic to your online listings, be it on Amazon, Target, or Walmart.
You can use Amazon attribution or Skai's dynamic commerce ads to aid in your campaign management. And instead of just promotional content, provide valuable information and create a sense of community. Shoppers are more likely to turn to brands they trust and feel connected with during sale events.
Don't forget: Google is still a prime [pun intended] place where consumers research their purchase plans. They might see a Prime Day deal on Amazon and then go to Google to see if it truly is a deal—and that allows you to drive them to one of your other retailer partners. This is an especially good avenue to use paid search ads to strategically bid on competitor terms. As your rivals spend heavily on Amazon, they will drive consumers to Google where you can swoop in and win away a sale.
Optimize product listings
Ensure your product listings are fully optimized across all platforms, not just Amazon. A compelling product description, quality images, and relevant keywords can significantly impact your visibility and conversion rates. Furthermore, remember to maintain consistency across different platforms. The information and feel of your Amazon product listings should align with those on Walmart or Target. Consistency in product representation instills trust and credibility in your brand.
To sum up, Amazon Prime Day offers an excellent opportunity for marketers to capitalize on the increased traffic and heightened buying propensity. This is the halo effect. By diversifying your platform presence and adopting a holistic, informed marketing strategy, you can truly maximize the potential of this event. With strategic planning, effective advertising, and a keen focus on customer intention, you can use the halo effect to illuminate your brand in the best possible light.
Skai's omnichannel platform has the measurement tools you need to master Prime Day and beyond!
As you prepare for Amazon Prime Day, remember that measurement is a three-part journey. Each phase—before, during, and after Prime Day—has its unique requirements and strategies.
Skai's platform can help you navigate through each phase effectively, keeping your KPIs and metrics right and eventually making the most out of Amazon Prime Day. Remember, your approach to measurement can be the difference between a good Prime Day performance and a great one.
Skai's Retail Media solution empowers brands and agencies to plan, execute, and measure campaigns on 100+ retailers in one unified platform with best-in-class automation and optimization capabilities.
We invite you to schedule a brief demo to see all of our cutting-edge innovation for yourself and to get answers to all of the questions you may have.
From the Skai family…have a great 2023 Prime Day!
---


And read this new report to understand the keys to a successful Prime Day 2023:
– Prepare well in advance
– Be intentional with your Prime Day strategy
– During Prime Day, look out for opportunities
– After Prime Day, take your time to study and learn from the results
---