I've written recently about the transition away from multi-touch attribution (MTA) as the marketing industry's primary measurement methodology. In my last post, What's Going to Happen with Multi-Touch Attribution in a Cookieless World?, I explained how new limitations on consumer data tracking are forcing marketers to find a new approach. MTA will continue to help channel practitioners working within closed ecosystems (i.e. Google, Facebook, Amazon), but any methodology that requires ad exposure tracking at the individual user level will simply not be a viable solution in the near future.
What seems to be the inevitable replacement for MTA is incrementality, which doesn't require cookies or individual user tracking. Incrementality vs MTA is an inevitable conclusion for marketers eyeing those upcoming data restrictions.
For those unfamiliar with incrementality:
Incrementality is the experimental process, and resulting measurement, that allows a business to identify the composition of outcomes that were the direct cause of an advertising tactic, and those that would have occurred even without it as a result of other tactics or external factors.
If you've ever run an A/B test, the approach is quite similar. A Test/Control methodology is used to determine the impact of a marketing element—campaign, channel, ad, etc. By running incrementality tests, marketers can figure out the performance impact of just about anything, including cross-channel, online-to-offline, and even non-media (think, promotions) tactics. 
Incrementality vs MTA: the biggest difference
Incrementality is supplanting MTA as the industry's primary measurement approach because it doesn't rely on cookie tracking. But there's one other major difference between these two methodologies…
There was always one big problem with multi-touch attribution. Something most marketers—not even MTA's biggest supporters—ever really talked about. 
To illustrate this point, let's go back to our previous example purchase path I shared in my last post. A user who, across a week, is exposed to 5 marketing touchpoints and then converts for $150.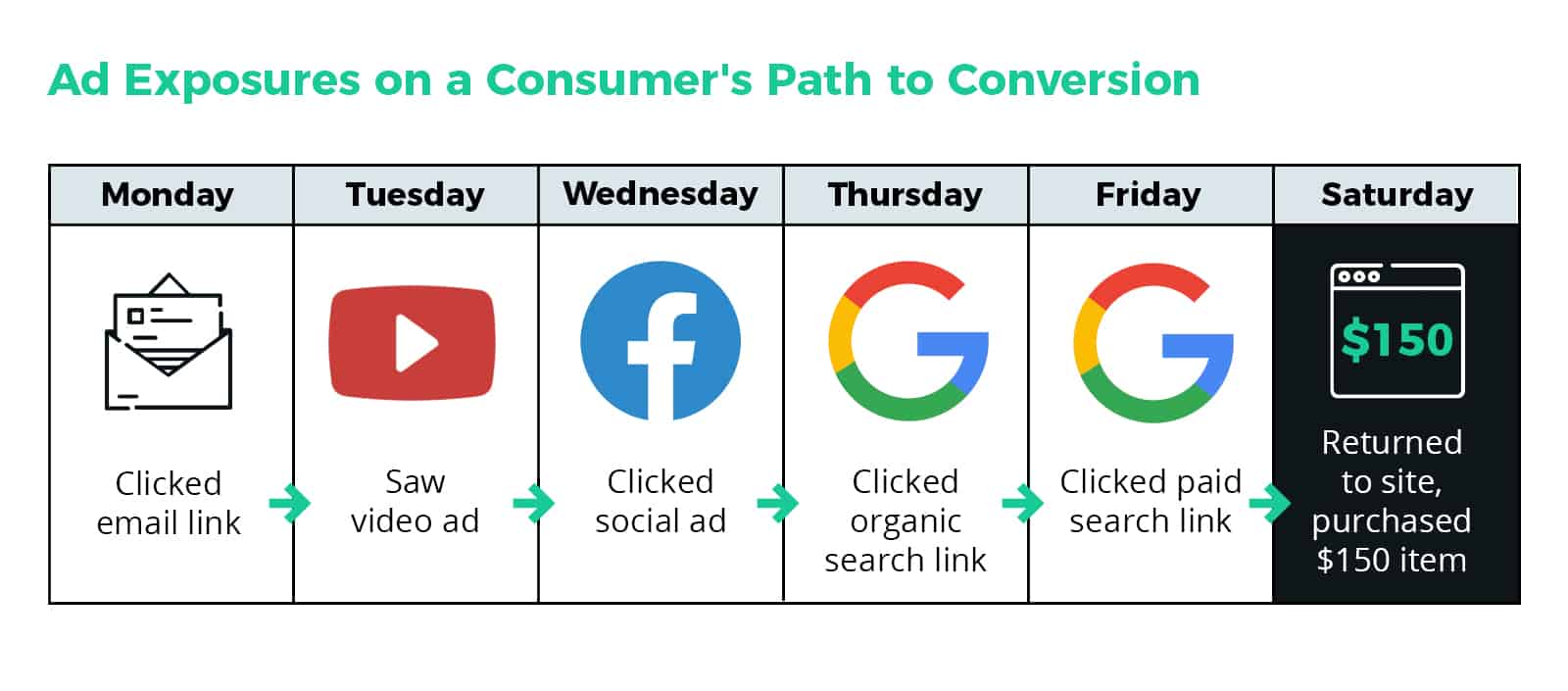 With MTA, each of the five marketing interactions would get fractional credit for the $150 conversion. The attribution algorithm might determine that the Facebook ad receives $25 of the sale, the email receives $30 of the sale, and so forth. 
The goal of MTA is in its name: multi-touch attribution. To attribute the impact of multiple marketing touchpoints to a conversion. 
With MTA, if there were 10 touches tracked, all 10 would get some credit.
With MTA, if there were 100 touches tracked, all 100 would get some credit.
And that's the major problem with MTA. It fails to address a very simple question: What if a tracked marketing touchpoint did not have any influence? What if it had zero impact on the conversion?
I hear it all the time from our brand partners: someone—their CEO, their CFO, their CMO, their boss, or themselves—in their organization is asking, how do we know that sale wouldn't have happened anyway? How can we be sure our marketing investments aren't wasted? Without fail, someone is saying to themselves, I stop for coffee every single morning. Same order. Every day. Do I show up as a marketing-driven purchase in Starbucks ' daily reporting?
That makes intuitive sense when we all stop to think about it. And it's not just that coffee example…
What if the user walked away from their computer when the YouTube ad came up? What if the user was going to purchase that item anyway and that the ads did help get the user to the website, but didn't truly influence the sale to occur?
That's the MTA trap. We assume that just because two events are connected, one must in some way be meaningfully related to the other. Association is not causation. My daughter and I are associated, but she doesn't deserve credit for my last purchase at a retailer. Just like the billboard I saw for Macy's on my drive to the store doesn't necessarily deserve credit for the purchases I make there (maybe it does, but MTA wouldn't make that distinction).
The goal of incrementality is also in its name: is there any incremental value to a marketing element, even if the tracking shows that a converting user was exposed to it. Incrementality is causation, not association (or even correlation).
Just because tracking might show that an ad was shown on a user's browser, it doesn't mean that it had influence. 
This is something that incrementality provides that will be incredibly helpful to marketers. Maybe marketers will initially embrace it because of its cookieless nature, but eventually, they will see that it is a superior way to measure advertising effectiveness.
Incrementality vs. MTA: Are you ready for the cookieless future?
Don't wait until your multi-touch attribution is crippled by the depreciation of cookie tracking. You need to get a new marketing measurement approach now so you can have it running at full speed when Google and Apple make their changes. 
Impact Navigator measures the real-world effectiveness, or incrementality, of a marketing tactic. Reach out today to schedule a brief demo to see incrementality in action.