The Skai Marketing Guide to Mastering Amazon Ad Types
One of the outcomes of the meteoric growth of Amazon Ads has been dramatic price inflation, with some industry reports indicating that CPCs are up almost 50% year-over-year. To remain profitable and efficient, Amazon marketers know that they have to get more savvy and sophisticated with their programs.

One of the critical ways practitioners are leveling up their strategies is to master the various ad formats available. What are some of the ways to expand or narrow targeting? How can they use some of the creative restrictions to their benefit? Which formats are best for the upper funnel and which are best at the bottom?

Read our guide to learn more about the different Amazon Ad types and learn how to offset the CPC inflation with actionable tips.
Why are Amazon CPCs skyrocketing?
Amazon Ads is experiencing the same growing pains around this point in its evolution as we saw with Google's and Facebook's ad businesses. Early adopters paid pennies on the dollar for clicks in the first years, but competition increased as more marketers flocked to these channels. So, for a short time, prices shot up and caught advertisers off guard. However, eventually, CPCs stabilized, and these channels have flourished since.
Amazon Ad prices are still rising. One of your ways to keep your programs profitable is to ensure you're getting the most out of each ad format as possible.
"It seems that no area of the market today is immune from inflation pressure. With an ecosystem as dynamic and broad as Amazon's—sellers, non-endemics, global brands, aggregators, accelerators—there is no singular driver that explains price inflation."

-Nich Weinheimer, GM of Strategy and Commerce, Skai.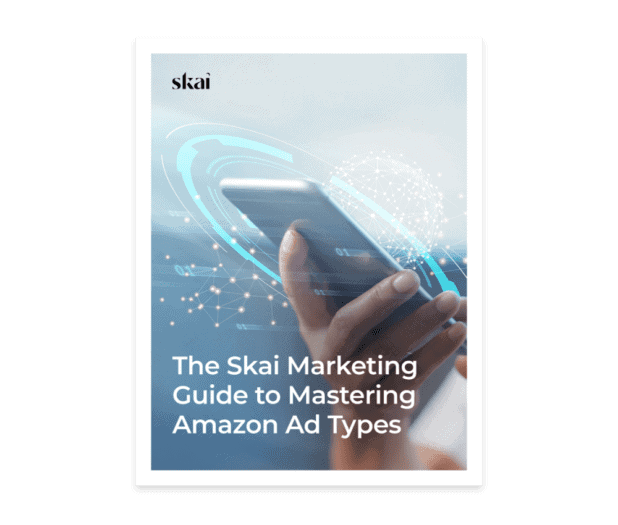 In this Skai Marketing Guide, you will learn:
The fundamentals of the most popular Amazon Ad types
Tips for each format to drive performance and beat competitors
Considerations for a best-in-class program mix
Download the report