Technology is supposed to work for us, not the other way around. 
Today's top marketers need advanced campaign optimization and management tools to achieve peak performance. However, some marketers may have reservations about handing over complete control to a black-box solution when it comes to ad platforms provided by publishers. Others may find that the publisher's optimization tools are insufficient for their needs or that automated optimization requires additional data before it can begin.
As a result, achieving performance goals can be challenging for marketers, who may invest more time and effort than necessary to get the desired results. 
To address these challenges, it's essential for marketers to carefully evaluate the available optimization tools and choose the ones that best align with their specific goals and objectives.
This is where Skai's Advanced Automated Actions come in.
Introducing Advanced Automated Actions
Customers who create automated actions can choose between single-step Automated Actions and the new Advanced Automated Actions. The latter is designed as an easy-to-build and edit decision tree, enabling customers to manage multiple automated actions within a single workflow that supports both "and" and "or" logic.
With Advanced Automated Actions, customers can create multi-step processes with
clear dependencies between each step, resulting in a more efficient and effective workflow. In addition, the platform enables customers to customize their automated actions according to their specific needs and objectives, allowing them to achieve their desired outcomes with greater ease and accuracy.
The decision tree format of Advanced Automated Actions makes it simple for customers to visualize the workflow and understand how each step fits into the larger process. The platform's user-friendly interface allows customers to easily edit and adjust their automated actions as needed, providing greater flexibility and control.
Advanced Automated Actions gives control back to advertisers to build their own algorithms and empower them to manage campaigns more effectively.
Intuitive Plug-and-play Visualize Decision Tree
Before now, creating your own optimization algorithm required dozens of single-step automated actions, making managing and maintaining workflows impossible.
Advanced Automated Actions Visual tree workflow builder
Skai's Advanced Automated Actions is the first plug-and-play solution to simplify creating complex automated actions efficiently and at scale. Now, you can maintain all workflow dependencies in one simple and intuitive rule-based decision tree. 
As you can see, the visual decision tree enables users to easily create, view and edit multi-step flows on an ongoing basis and view how dependencies impact the entire workflow.
Build your own algorithm—no coding experience needed
Advanced Automated Actions provide the simple flexibility for creating and customizing multi-step rule-based workflows, just like building your own optimization algorithm, with no programming skills required. It's the simplest way to create your own rule-based workflows to manage campaigns at scale on a single publisher or across multiple publishers and regain control from publisher black-box optimization tools.
Advanced Automated Actions allows Skai customers to specify multiple conditions, define the desired action to be taken, and schedule a time and frequency for the actions to be executed. This functionality allows customers to create a more complex and sophisticated workflow that can accommodate their specific needs and objectives.
Customers can use Advanced Automated Actions to trigger a range of actions, such as changing the status of a campaign, adjusting bids, or even refreshing creative. They can also set multiple conditions to be met before the action is executed, ensuring that the automated actions are only performed when necessary.
In addition, customers can schedule when and how frequently the actions are executed, providing them with greater control over the automation process. The platform allows customers to customize the schedule according to their preferences and the needs of their campaigns.
Trigger bid and status adjustments with Advanced Automated Actions
Advanced Automated Actions offer a wide range of customization options that allow
customers to create complex workflows that align with their specific needs and objectives. For instance, customers can set criteria to automatically pause all keywords in a retail media campaign with an Advertising Cost of Sales (ACoS) less than 5% while increasing bids by 10% for those with an ACoS greater or equal to 5%.
With Advanced Automated Actions, customers can define the precise conditions that must be met before an action is triggered. Once the conditions are met, the specified action is executed automatically, streamlining the campaign management process and freeing up time for customers to focus on other critical tasks.
Customers can achieve greater efficiency and accuracy in their campaign management processes by automating actions based on predefined criteria. Additionally, they can leverage the platform's scheduling capabilities to ensure that actions are executed optimally, improving overall campaign performance and ROI.
Analyze and optimize by dimension
Dimension tagging is a powerful Skai tool that groups entities (keywords, campaigns, etc.) that meet specific criteria. This way, you can later evaluate why they are not performing as you had hoped or set additional actions to automatically pause what doesn't meet those criteria. 
With dimension tagging, customers can identify patterns and trends across their campaigns, making it easier to identify areas that need improvement. This tool can help customers better understand their campaigns and optimize their performance more precisely and accurately.
Dimension tagging also provides customers with greater flexibility and control over their campaigns. Customers can easily add, modify, or remove tags, ensuring their campaigns align with their objectives and goals.
Unlock Skai's full potential with Advanced Automated Actions and more!
When you combine Advanced Automated Actions with the flexibility of Skai dimension tagging, the possibilities are endless. Instantly, complex multi-step workflows can become really simple to manage. 
For example, summer is coming, and you want to understand where you should focus your ad dollars…
With this new functionality, you can automatically assign a custom dimension to keywords that meet the ROI goals for more in-depth analysis. Then, use that subset of data to do more in-depth analysis and set up reporting dashboards. Once you are ready,  you can capitalize on that keyword group and trigger actions like bid changes, approve, pause, or delete from campaigns, and even use trending product smart tags to automate essential notifications.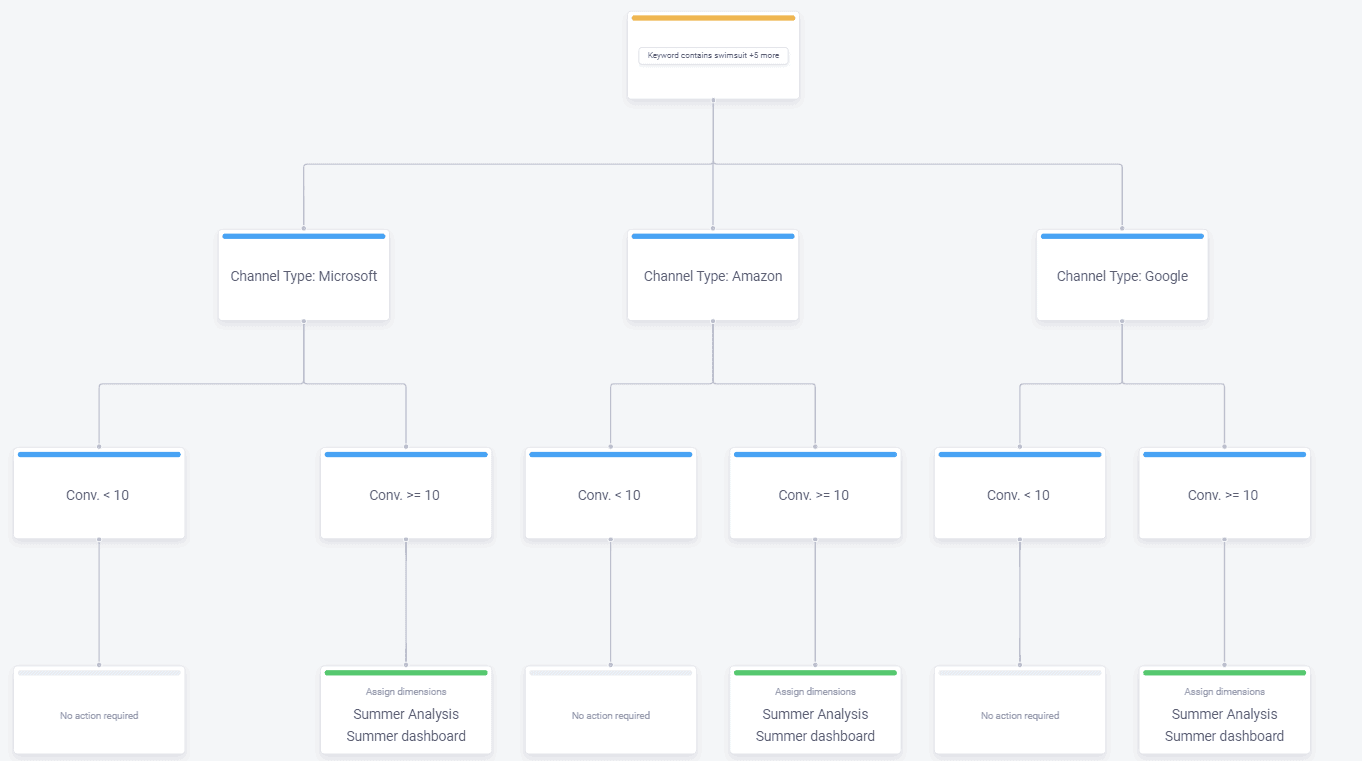 Almost like magic, using this workflow process, you can automate an entire bid management strategy with clear workflow visibility across as many publishers as you would like in a single workflow. 
Set actions based on custom dimensions
Skai is working harder, so you don't have to
It's never been easier to work faster and more efficiently at scale. With Advanced Automated Actions, you regain control from publishers and have complete control over your advertising performance and how it's achieved.
Create the perfect workflow for your business and start automating for your desired outcome.
Interested in learning more about how Skai's cutting-edge functionality, such as Advanced Automated Actions, can speed up your day, reduce errors, and drive campaign performance? 
We invite you to schedule a demo with our team today to see everything we offer.