Q3 2020 Quarterly Digital Trends Report
Q3 2020 was the second full calendar quarter under the COVID-19 pandemic. With 2019 being the first year where online budgets eclipsed traditional ad spending, 2020 was poised to be a breakout year for Search, Social, and Ecommerce advertising. Of course, things didn't go as planned—and many marketers are trying to discern the extent to which the global health pandemic has impacted these core digital channels. More broadly, what can we learn about how some of the core industries comprising the U.S. economy have been affected through the lens of media behavior? Find the answers you need in our Quarterly Trends Report.
Skai's Quarterly Trends Report: Digital Advertising Snapshot
Although Q3 2020 was heavily impacted by the global pandemic and the economic reverberations that came with it, there are some solid signs of recovery across various industry sectors as we head into the always-important holiday shopping season.
This edition of the report Skai covers digital advertising campaign performance trends based on an analysis of Skai' aggregated client dataset with over 800 billion impressions and 12 billion clicks.
See spend, impressions, clicks, pricing, and other key performance indicators from Q3 2020 across Paid Search, Social, and Ecommerce Advertising.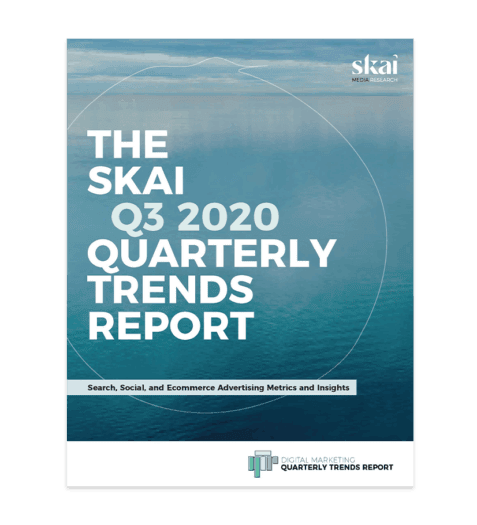 Read this complimentary report today to learn more about what's going on in the digital advertising industry.
A drill-down into industry trends such as automation, shoppable ads, and the 2020 election
Key performance indicators for the third quarter of 2020 across Search, Social, and Ecommerce advertising
The impact of the COVID-19 on overall digital advertising trends
Read the Report