Q2 2021 Quarterly Digital Trends Report
It has now been over a year since the onset of COVID-19. The impact has been wide-ranging, both across society at large and across marketing and commerce. The recovery of digital advertising has led to impressive growth numbers for the major online platforms in Q4 2020 and Q1 2021, and as we hit the first anniversary of what was probably the worst month for advertising from last year in April, that growth has continued and even improved. But what does this spending growth mean for brands? Are ad prices going up, and if so, why? How can the agile marketer navigate these trends to maximize the impact of their programs in an environment that is still changing as we emerge from a once-in-a-lifetime pandemic while simultaneously negotiating with evolving data privacy rules and policies?
This edition of the Skai Quarterly Trends Report for Q2 2021 is drawn from an overall population of over $7B in marketer spend, 1 trillion ad impressions, and 12 billion clicks. As one of the most well-respected datasets by those who follow advertising performance, it includes unique insights about what's happening in the digital advertising industry on a macro level.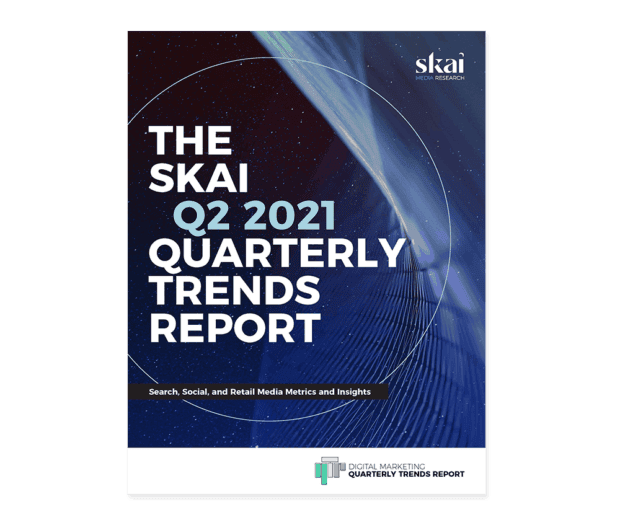 In this report:
Learn quarter-over-quarter (QoQ) and year-over-year (YoY) digital advertising campaign performance trends from Q2 2021, including:
Key performance indicators for the second quarter of the year across Search, Social, and Retail Media Advertising
Details on what drove notable trends and changes over time in each advertising channel
The impact of iOS 14.5 and Apple's App Tracking Transparency changes on Paid Social spending
Read the Report