Mastering Apple
Search Ads
Drive enterprise value and business growth using the most important channel for app marketers
Apps have little value without an audience—and if we've learned anything over the first decade of app marketing, brands cannot rely on just their name to drive app adoption. Brands have to get customers to install, keep, and use their apps on their mobile devices to extract the full value of their investment. And even when a brand is already well established in its industry, there's no guarantee that's enough to compete in the world of mobile. Find out how you can take your retail marketing to the next level in this whitepaper.
The omnichannel apps opportunity
With digital channels even more important since the rise of ecommerce driven by the pandemic, the opportunity created by this recent change is staggering. Brands can strategically use apps to generate sales, strengthen brand awareness, increase customer engagement, and drive traffic to their online and offline properties.
As the marketing world evolves to a more omnichannel approach, apps represent a unique touchpoint between brands and their customers. It's an incredibly intimate channel found in almost every pocket and purse. People take their phones to the bathroom and to bed with them.
Companies that don't fully embrace how apps complement an omnichannel marketing strategy won'textract the total enterprise value from their app investments.
Just as marketers discovered a few decades ago that search engines were an important inflection point to impact and influence consumers, it is now the search engines within app marketplaces that are becoming today's critical battleground for brands. The place to start is on iOS and Apple Search Ads.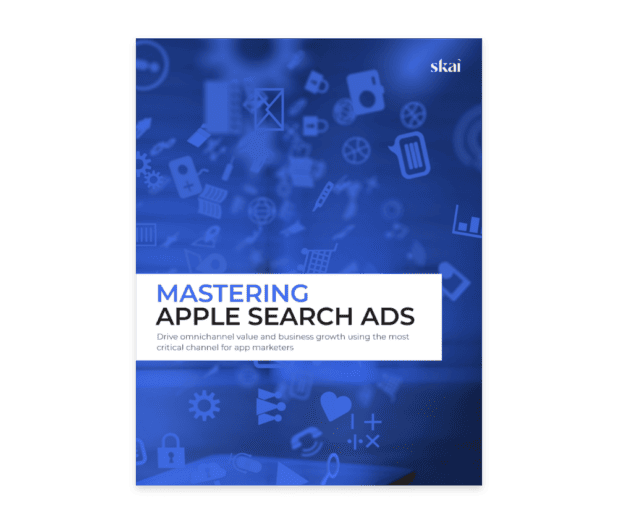 In this report, learn:
How the global pandemic has spiked mobile app usage and increased the potential value that an app can bring to a brand

Companies cannot just rely on their brand name alone to drive app adoption—a true marketing strategy needs to be in place

Paid search app advertising is just as important to app success as SEM has been for websites on the standard web

The iOS user base monetizes higher than other mobile platforms and that's why Apple Search Ads is a key channel to master for app marketers

10 Apple Search Ads tips to maximize your program ROI
Read the Report