Marketers who follow industry benchmarks know that the first quarter year generally sets the tone for the rest of the year. Most large brands set marketing budgets at the annual level and are approved months in advance. Generally, only a major event—such as COVID in 2019—forces marketers to rethink spending mid-year.
For over a decade, the digital advertising benchmarks presented in Skai's Quarterly Trends Reports have helped practitioners better understand the marketing landscape. Many use them to compare their own efforts against their industry peers.
Skai's Q1 2022 numbers are out now, and you can download this complimentary report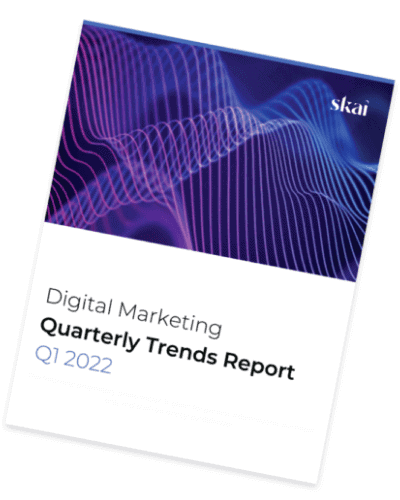 today!
In this report, learn quarter-over-quarter and year-over-year digital advertising campaign performance trends from Q1 2022, including:
Key performance indicators for the fourth quarter of the year across retail media, paid search, and paid social

Details on what drove notable trends and changes over time in each advertising channel

Where retail media advertisers allocated their budgets
Q1 2022 results: retail media, paid search, paid social
Retail Media 
Growth rates are back up after Q4 appeared softer primarily due to unique circumstances in late 2020

Amazon is still in the driver's seat, but new retailers are helping drive spending growth

Paid Search
The massive acceleration of paid search spend is starting to ease, resulting in slower YoY growth rates 

One big reason for the slowdown is that ad prices have stabilized over the last three quarters, particularly for non-branded keywords
Paid Social
Overall spending growth continues to slow, which is generally accepted to be a result of IDFA disruption 

Spending on both video ads and shopping ads have outpaced overall social growth; both are areas where advertisers can operate within privacy constraints
Skai's intellignet marketing platform
Skai empowers the world's leading brands and agencies across industries to manage omnichannel digital marketing campaigns. Our intelligent marketing platform includes solutions for retail media, paid search, paid social, and app marketing. We'll keep you at the forefront of the digital evolution with data and insights, marketing execution, and measurement tools that work together to drive powerful brand growth. Client results include:
For more information, or to see our cutting-edge functionality for yourself, reach out today to schedule a quick demo.